What Are Good And Bad Foods For Nephrotic Syndrome Patients
2015-03-14 08:43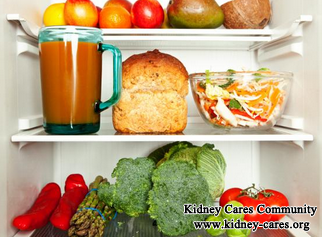 Nephrotic Syndrome (NS) is a kidney disorder. It develops as a consequence of kidney damage and causes a loss of large amounts of proteins and consequent hypoalbuminemia. Nephrotic syndrome is treated with specific medications which are prescribed according to the underlying cause. However, diet for these patients is specific and must be well-balanced.
1. Patients should limit the sodium intake.
As for nephrotic syndrome patients, they are easy to suffer from swelling. Swelling is caused by too much sodium in your body, so patients should follow a low sodium diet so as not to worsen edema. Salt should not be more than 2g. Avoid pickled foods and other high sodium foods like canned foods, fried fries and bacon, etc.
2. keep an eye on protein intake
Nephrotic Syndrome patients usually have proteinuria. Protein in urine will make patients lose lots of protein. Patients in this situation are easy to get malnutrition and affect the health. Therefore, patients need to pay attention to protein intake. In early and end stage of nephrotic syndrome, patients should follow a high quality protein intake.
3. fat intake
Generally people with nephrotic syndrome suffer from hyperlipidaemia which tends to lead to injured glomerular and glomerular sclerosis. Therefore, patients should consume less fat and limit animal organs, some sea foods and foods with high cholesterol and fat.
4. trace elements supplementation
Since a large amount of protein leak from patients' body, patients will lack of protein and trace elements like zinc, calcium, magnesium and iron. Therefore, patients should supplement trace elements properly.
In conclusion, nephrotic syndrome patients should be given high quality protein intake like fish, lean meat and they should eat some vegetables, fruits and whole grains to supplement calcium, vitamins and trace elements. However, they should avoid spicy, fried foods and sea foods like fish, crabs and peppers. Pickled foods should be avoided as well. And finally, intake of alcohol is strictly forbidden.