What Kind Of Diet Do You Have Your Kids With Nephrotic Syndrome On
2015-02-13 06:32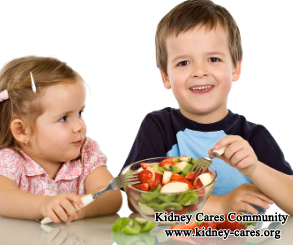 We know nephritic syndrome is easy to relapse with weak immunity. Some children feels their immune system is stronger eating healthy. Well, what kind of diet do you have your kids o and is there anything you do differently that helps your child not have a relapse?
The diet for a child with nephrotic syndrome may include the following aspects:
1. reduce the amount of fat
Nephrotic syndrome causes the buildup of cholesterol and triglycerides in blood which can damage the heart. Eating a heart healthy diet is able to help the amount of fat in your blood. Thus, you should choose lean meats, increase the amount of fresh fruits and vegetables in your diet, drink fat-free or low-fat milk, try non-fat sour cream, cream cheese or yogurt.
2. reduce the amount of salt
The kidneys of children with nephrotic syndrome do not work properly, causing large amount of protein to leak into their urine. The loss of protein can cause a range of protein like swelling of body tissues. To prevent further water retention and edema, you should have your kid on a low salt diet. This means avoiding processed foods and not adding salt to what you eat. Read some tips on how to cut down on salt.
3. avoid excessive intake of protein
Excessive intake of protein should be avoided as the kidneys have to function more vigorously to filter surplus protein. This can cause tubular damage to the kidneys. Moderate protein intake helps preserve kidney function. Foods like wheat, sprouts, legumes, egg whites, lean meat, and fish are rich source of proteins but should be consumed in moderation.
4. super foods
Weak immunity is easy to make Nephrotic Syndrome get relapse. The immune system can change and get stronger with proper diet. Besides fruits and vegetables, there are a lot so called super foods in the world that can help to strengthen the immune system such as goji, spirulina, baobab all types of berries.
I hope the above information is useful for you. If you want to know more information about nephrotic syndrome, please just feel free to consult our online doctor or leave a message below.