Dietary Principles For Nephrotic Syndrome Patients
2015-02-09 09:03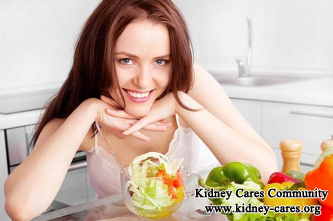 Proper diet plays an important role in the treatment of Nephrotic Syndrome. Patients with nephrotic syndrome should be given high calories, high protein and high vitamin diet. Besides, they should limit fluid and sodium as well as potassium intake. The detailed dietary principles are as below:
1. limit potassium level
If you experience high potassium level in blood, you should limit food with rich potassium, such as vegetables, fruits and juices. High potassium level can lead to heart arrest.
2. sodium restriction
If you are struggling for water retention and experiencing swelling, you should limit sodium intake, especially for congestive heart failure and high blood pressure. You should even follow no salt diet. When congestive disease and high blood pressure are treated, you can follow a diet as healthy people.
3. supplement enough calories
Children and adolescents should supplement enough calories. If protein or sugar limitation impacts the intake of calories, this will affect the growth and development of children. Children may experience malnutrition and other medical conditions. As for chronic kidney failure patients, it is very important to consume enough calories. As for fatty diabetic nephropathy patients, they should be cautious about calories intake.
4. proper protein intake
If you have asymptomatic proteinuria or hematuria, you do not have to limit your diet strictly. You only need to reduce protein or salt intake properly. Kidney dysfunction patients should control protein intake such as poultry, seafood and bean products, which is beneficial for reducing the burden on kidneys so as to protect the kidneys. However, how much protein you can eat depends on your medical conditions, otherwise you may experience malnutrition. This is also not good for you to alleviate your kidney disease.
The above does not suit for everyone. If you want to get your individualized diet, you can leave a message to kidneycares@hotmail.com attached your medical reports. Our doctor will give a specific diet plan according to your own medical conditions.
Our Treatment Effect
Swelling is an obvious sign of Nephrotic Syndrome
Move the mouse to enlarge the picture
Look, this patient has severe leg swelling which has made her feel pain and can not get out of the bed. In order to seek better treatment, she came to our hospital for Chinese medicine treatments. 30kg of fluid was removed from her body in less than a month. Her leg swelling disappeared completely. Now you can see her long legs again.
Proteinuria can also be seen in kidney patients
Move the mouse to enlarge the picture
Look, this patient has severe proteinuria when he just came to our hospital. With our Chinese medicine treatments, his condition was better and better. Bubbles in urine gradually reduced and finally disappeared in 10 days of treatment.
New Zealand Patient Second Visit to Our Hospital for TCM
Nephrotic Syndrome Illness Analysis