Is Cabbage Good For Nephrotic Syndrome Patients
2015-01-04 01:33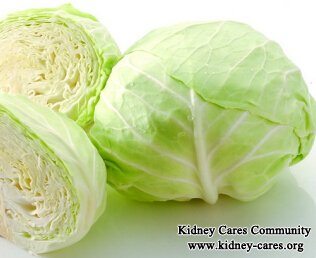 Most of us know that eating a balanced diet is important for good health, especially for kidney disease people. As for nephrotic syndrome (NS) patients, they are eager to know what foods are good for kidney health. Inexpensive cabbage is especially kidney-friendly and it is good for NS patients.
What health benefits can nephrotic syndrome patients get from cabbage?
1. purify the body
The high content of vitamin C and sulphur in cabbage removes toxins including free radicals and uric acid. These are the main causes of further kidney damage and kidney disease deterioration. Besides, toxins in the body will also cause arthritis, skin diseases and gout. These are common symptoms of nephrotic syndrome, so patients with NS can eat cabbage.
2. prevent blood pressure from getting high
High blood pressure is a leading cause of kidney disease and it also can result in further kidney damage. Cabbage with high potassium content helps by opening up blood vessels, easing the flow of blood so as to help keep blood pressure from getting high. However, not all nephrotic syndrome patients can eat cabbage. If your lab report shows there is high potassium level in your blood, you should avoid or eat less cabbage. This is because high potassium level may cause irregular heartbeat, heart attack and stroke.
3. lower blood sugar levels
Diabetes people will have high blood sugar and people with diabetes for a long time are more prone to suffer from kidney disease. So they should lower blood sugar level timely. The natural red pigments of red cabbage is said to lower blood sugar levels and boost insulin production.
4. help cardiovascular health
Cardiovascular disease is a major complication of nephrotic syndrome. To reduce the risk of cardiovascular disease, NS patients can eat cabbage. Cabbage is high in phytochemicals which combat free radicals and stop them before they do harm. The phytochemicals also help cardiovascular disease.
In summary, cabbage is good for nephrotic syndrome patients. Please always remember do not eat it too much. If you do not know how much you can eat, you can consult our online doctor or leave a message below.