Are Pears Good For Nephrotic Syndrome Patients
2015-01-02 09:01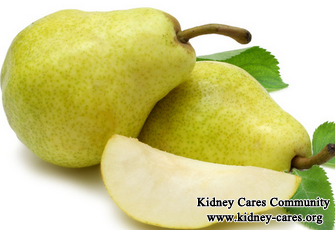 Pears provide a very good source of fiber and are also a good source of vitamin B2, C, E, copper and potassium. Patients with Nephrotic Syndrome (NS) are suggested to keep a reasonable and healthy diet. Now follow us to see whether NS patients can eat pears.
People with nephrotic syndrome are recommended to eat some fruits. They usually can eat pears, peaches, plums, berries and watermelon. Besides, pears can bring the following benefits for NS patients:
1. reduce the risk of type 2 diabetes and heart disease
Heart disease and diabetes are both risk factors for kidney disease. In addition, the cause of death in people with kidney disease is most often heart disease. As a very good source of dietary fiber, pears might logically be expected to help protect us from development of type 2 diabetes as well heart disease. Adequate intake of dietary fiber is a long-established factor in reducing our risk of both diseases.
2. boost immune system
A strong immune system is able to fight off disease and illness. Pears help to boost immune system since pears contain antioxidants such as vitamin C and copper which fight off free radicals and disease in the body. This can stop further kidney damage and delay the progression of kidney disease.
3. constipation
Constipation is often experienced by nephrotic syndrome patients. To alleviate this condition, pears can do some help. The pectin in pears is diuretic and have a mild laxative effect. Drinking pear juice helps regulate bowel movement.
3. prevent inflammation
Inflammation is a factor of causing further kidney damage. Pear juice has an anti-inflammatory effect and helps relieve sufferers of much pain in various inflammatory conditions.
4. prevent high blood pressure
Just like diabetes, high blood pressure is a leading factor of kidney disease. Pears can help prevent high blood pressure and reduce the risk of kidney disease because pears contain anti-oxidant and anti-carcinogen glutathione.
From the above, we can see nephrotic syndrome patients are allowed to eat pears. Besides, if you want to other related information about diet suggestions, you can leave a message to kidneycares@hotmail.com or consult our online doctor directly.