Is Tofu Good For Nephrotic Syndrome Patients
2014-11-26 16:03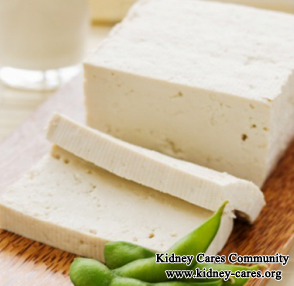 Tofu is a high protein food and also contains some vitamins and minerals. In Chinese medicine, tofu has curative effects on clearing away heat and toxic materials and can cure various diseases. However, as for nephrotic syndrome (NS) patients, they should not eat too much tofu. Let's see the reason as below.
Tofu contains rich protein. Once you eat too much. It will affect the iron absorption and easily lead to protein indigestion. You will have discomforts like diarrhea and abdominal distension. Normally, plant protein is metabolized and then it will turn into nitrogenous waste products, which will be discharged by kidneys.
However, with nephrotic syndrome, kidneys' ability to excrete wastes will decline. At this condition, if you do not pay attention to your diet and eat too much tofu or intake excessive plant protein, nitrogenous waste products will increase in your body. This will put a burden on your kidneys and cause further kidney damage. It is not good for your kidneys.
From the above, we can see excessive tofu intake is very dangerous for people with nephrotic syndrome. Because overeating tofu will cause indigestion and workload your kidneys. Tofu can also result in kidney function disorder since a large amount of plant protein in tofu will put a stress on your kidneys.
Too much tofu or other plant protein intake is bad for your kidneys. But if you eat it with right amount, you can get some benefits from it. For example, in kidney disease patients studies, replacing animal protein with soy protein reduces the loss of protein in the urine. Another benefit of soy protein is it lowers LDL cholesterol. It has been said that soy reduces the rise in triglycerides which is important in reducing cardiovascular disease risk. To be safe, you should consult your dietitian or the online doctor to know how much you can eat tofu or other soy products.