Foods for 5 Years Old with Nephrotic Syndrome
2014-11-14 05:33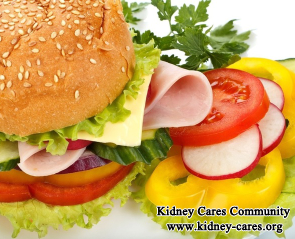 Nephrotic Syndrome is one of kidney disorder that attack children easily. For children who are suffering Nephrotic Syndrome, they need to be careful about their daily foods, because improper diet will worsen their illness condition. Well, what are the foods for a 5 years old child with Nephrotic Syndrome?
To know clearly about foods for kid with Nephrotic Syndrome, we need to firstly understand what Nephrotic Syndrome is.
Nephrotic Syndrome actually is not an independent illness, but a group of clinical manifestations which include severe proteinuria, swelling, hyperlipidaemia and hypoproteinemia. By controlling these symptoms, illness progression can be slowed down. Medicines are required to alleviate them, but if patients do not pay attention to their daily diet, these symptoms will be aggravated severely.
For a 5 years old child with Nephrotic Syndrome, the following diet arrangement is needed:
1. High quality protein
Urea nitrogen is a waste that is formed when protein is consumed in our body. High protein intake will increase the production of urea nitrogen, which can increase kidney burden, so limiting protein intake is generally needed. However, for a 5 years old child, he needs protein to meet his physical development and mental development. High quality protein can be fully consumed in our body and meanwhile produce less wastes. Therefore, high quality protein is recommended for children with Nephrotic Syndrome.
2. Limit soup intake
Swelling is one of the visible symptoms of Nephrotic Syndrome. High fluid intake will worsen swelling, so fluid intake is needed.
3. High vitamin intake
Due to strict diet limitation, Nephrotic Syndrome patients need to avoid many foods and this may lead to vitamin deficiency. Therefore, in daily diet, patients need to ingest much more vitamin.
4. Low-salt intake
Low-salt intake is needed for child with Nephrotic Syndrome, because high-salt diet not only worsen swelling, but also trigger high blood pressure.
Exact diet plan should be made according to patients' exact illness condition. You can send patient's test report to: kidneycares@hotmail.com to get individual advice.