Diet And Nutrition For People With Nephrotic Syndrome
2014-07-23 03:17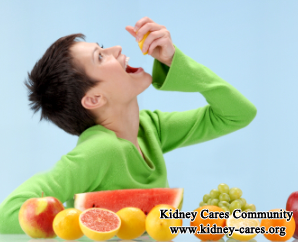 Nephrotic Syndrome (NS) is a nonspecific kidney disorder which is characterized by a number of signs of diseases including proteinuria, hypoalbuminemia and edema. Over time, kidney function will decline. With the decline of kidney function, protein waste and minerals will workload kidneys and diseased kidneys must work harder to get rid of them. Although each person's kidney diet is different, the main nutrients limited in kidney diet include protein, phosphorus, potassium and calcium. Read to to find a detailed tips for your kidney-friendly diet.
1. Choose water
You should choose tap or plain bottled water, mineral water or flavored sparkling water.waters may be enhanced with sodium, potassium or phosphate additives.
2. Avoid unhealthy fat
Replace unhealthy fats such as shortening, animal fats and hydrogenated margarine with healthy fats like olive oil and trans fat-free margarine.
3. Protein intake
You can choose egg whites and high omega-3 fish as your protein source. Egg whites are very low in phosphorus, fish such as salmon, trout and tuna reduce inflammation associated with kidney and heart disease.
4. Antioxidant food intake
Kidney disease patients should eat antioxidant rich foods such as apples, berries, cherries, red grapes, cabbage, cauliflower , garlic, onion and red bell peppers to reduce chronic inflammation related to kidney disease, cardiovascular disease and cancer.
5. Eat some cheese
Select some strong-flavored natural cheese and limit the amount you eat to help reduce the intake of saturated fat, cholesterol, sodium and phosphorus. How much you can eat depends on your medical condition, and you can send your test report to kidneycares@hotmail.com. Our renal experts will tell you how much you can consume according to your illness conditions.
6. Less meat or no meat intake
Meatless intake helps reduce protein and reduce stress on your kidneys. Meatless meals have fewer saturated fats, which is good for your heart.
A diet and nutrition suggestion is for nephrotic syndrome patients. If you want to know your personalized diet, you can consult our online doctor directly.