An Example Of Diet Plan For A Child With Nephrotic Syndrome
2014-07-01 03:00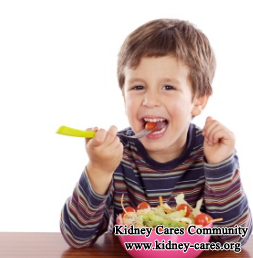 Along with your treatment regimen, a healthy lifestyle also helps improve kidney function in a child with Nephrotic Syndrome (NS). What is an example of diet plan for children with NS?
1. Sodium intake
Children with nephrotic syndrome should not be given too salty food. However, foods with no salt will affect the appetite, so low sodium intake is proper. After the disappearance of edema and high blood pressure, diet can be changed into normal diet. Light foods are also necessary and children should avoid too salty foods. Steamed bun and soda biscuit also contain sodium, so parents had better not give these to their children. Other salty foods should be carefully avoided such as processed foods, canned soups, some canned vegetables, boxed stuffing and noodles/rice mixed and most frozen dinners and so on.
2. Fat and cholesterol intake
Parents should not give their children saturated fats and trans fats. You should focus on giving meals that contain omega-3 fatty acids, such as flaxseed, oliver oil, soy nuts, wheat germ, walnuts, butternuts, salmon, tuna and so on.
Children should avoid fried foods, ice cream, fatty meats, poultry with skin, regular deli meats and cheeses, regular sour cream.
3. Soluble fiber
Soluble fiber helps the body to eliminate cholesterol . Soluble fiber is found in oats, legumes, apples, citrus fruits, strawberries and carrots.
4. Protein
Protein in urine is the obvious condition in Nephrotic Syndrome. To have a tight control about protein in urine, some children are suggested to reduce protein intake, and some others are recommended to eat more protein to replace protein lost in urine. How much protein is needed by a child with NS depends on patient's specific illness condition. In such condition, you can email your child' test report to kidneycares@hotmail.com. And then we can tell you how much protein is necessary for your child.
This article is an example of diet plan by a child with nephrotic syndrome. Apart from diet management, repairing injured kidney tissues and improving kidney function is the key point.