What Foods Can Not Be Eaten By Nephrotic Syndrome Patients With Proteinuria
2014-05-17 00:58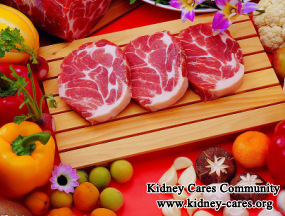 Diet can affect your proteinuria and kidney condition. In proteinuria, the kidneys are unable to collect protein from the blood. A well-planned diet can help manage your proteinuria in Nephrotic Syndrome (NS) and also supplement any lost protein. Today, our topic is that what food is not a reasonable diet for NS patients.
Avoiding certain foods helps relieve protein in urine. What are the dietary tips?
1. Keep far away from high protein foods
Diet affects proteinuria. Eating food that is high in protein may cause further kidney damage or even failure. A reduced-protein diet is recommended, because proteinuria can be caused by an excess of protein in your urine. However, keep in mind you should not completely remove protein from your diet. Protein is nutritional benefits that your body needs, and it is always important to maintain a well-balanced diet.
2. Don't use too much salt
Protein in the blood is able to absorb excess fluid. Without protein in the blood, fluid will build up in the hands and feet, causing swelling. Too much sodium can lead to water retention and fluid buildup. To reduce edema, a low sodium diet is suggested. If high blood pressure causes proteinuria, a low salt intake is much more important to control your blood pressure.
3. Limit other parts of your diet
According to your conditions of proteinuria and how advanced your kidney disease is, you need to limit other parts of your diet. If you have high cholesterol level, you should control your blood cholesterol levels by using diet to reduce your cholesterol level, which can help your risk of cardiovascular disease. Potassium can also accumulate in your body if your kidneys are not functioning properly. Foods high in potassium should be avoided.
Avoiding foods is not the only way to reduce proteinuria in Nephrotic Syndrome. Repairing injured kidney cells and improving renal function is the radical way to control or stop proteinuria.