Amazing Healthy Benefits Of Apple Cider Vinegar For Lupus Nephritis
2014-05-04 08:25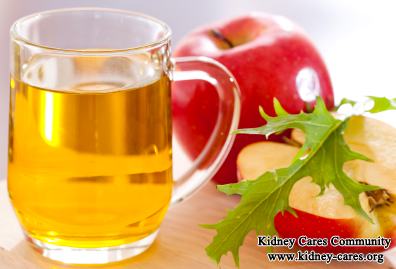 Apple cider vinegar has many health benefits which should be considered one of the best home remedies. As for lupus nephritis patients, they can also benefit from apple cider vinegar. Do you know what apple cider vinegar benefit for kidney disease patients?
Health benefits of apple cider vinegar
It is said that "an apple a day keeps the doctor away". Apple cider vinegar has been reported to:
1. Decrease glucose levels
Apple cider vinegar has positive effects on helping with diabetes. Diabetes is a leading cause for kidney disease. To decrease glucose levels, it is helpful for diabetic patients and reduce their risk for kidney disease.
2. Lower high blood pressure
High blood pressure is not only a leading factor but also a common complication of kidney disease. Most people die from the complications not the kidney disease itself. Several studies have shown vinegar's beneficial contribution to lowering high blood pressure.
3. Strengthen the immune system
Low immune system or immune disorder fails to fight against harmful substances and viruses. In this condition, harmful substances will take this advantage to attack your body, causing kidney disease. Apple cider vinegar helps boost immune system to decrease the inflammation and kidney injury.
4. Help eliminate toxins
When kidneys are damaged or injured, many toxins will pile up in the body. Toxins in the blood will circulate with blood flow and cause polluted blood. Polluted blood is one of factors of incurable kidney disease. Thus, eliminating toxins is essential. Apple cider vinegar helps eliminate toxins which is beneficial for kidney disease patients.
In addition, apple cider vinegar also can promote digestion and help promote bowel movement. Lower high cholesterol levels and improve metabolism as well as relieve joint pain and stiffness. All these benefits provide a good environment for the alleviation of Nephrotic Syndrome. You should consume apple cider vinegar moderately and properly.