Can Nephrotic Syndrome Patients Benefit From Moringa
2014-04-30 02:48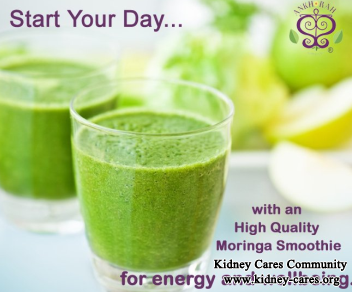 Is Moringa safe for Nephrotic Syndrome (NS) patients? Moringa is known as Miracle Tree because all the parts of the Moringa plant-gum, leaf, bark, root and seed, etc have been used to treat various diseases. As for Nephrotic Syndrome, Moringa can alleviate some relative symptoms. So it is safe for NS patients to eat Moringa.
Nephrotic Syndrome patients can get the following benefits from Moringa:
1. Lower blood pressure
Moringa can help keep your blood pressure down. Moringa leaf extracts contain substances like thiocarbamate glycosides, nitrile and mustard oil glycoside which can lower blood pressure.
2. Antidiabetic property
Diabetes is a leading cause for kidney disease. If the Nephrotic Syndrome is caused by long time or poorly controlled diabetes, Moringa is helpful for controlling diabetes. The extracts from moringa leaf is effective in lowering blood sugar levels.
3. Anti-inflammatory activity
Moringa have powerful anti-inflammatory activity. Inflammation can be a risk factor of NS, so amelioration of inflammation associated nephrotic syndrome can benefit from the anti-inflammatory activity of Moringa.
4. Relieve bone problems
The injured kidneys in NS will result in lower calcium level in your body. In this case, patients usually suffer from bone problems like osteoporosis. To alleviate this condition, patients can obtain from milk to absorb calcium through daily consumption. To be surprised, the leaves of moringa tree contain four times more calcium than that is present in milk.
From the above introduction, moringa is safe for nephrotic syndrome patients. Moringa contains many nutrients including a large amount of vitamin C, beta carotene, rich iron and no-sugar based energy and so on. However, not all NS patients can benefit from moringa. For example, if patients with high potassium level in their blood, they should control moringa intake or keep far away from it so as not worsen their conditions.
Overall speaking, moringa is safe for nephrotic syndrome patients. If you are not sure whether it is good for you or not, you had better consult your renal doctor or online experts.