Can I Eat Grapefruit with Nephrotic Syndrome
2014-04-20 07:52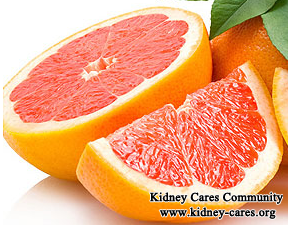 Patients with Nephrotic Syndrome should care about their diet in daily life very much. A healthy diet can help treat Nephrotic Syndrome very effectively. Grapefruit is a very delicious and popular fruit, but for patients with Nephrotic Syndrome, can they eat it? Now see the below:
To begin with, have a knowledge of grapefruit.
There are many kinds of vitamins and minerals in grapefruits, for instance, vitamin C, antioxidants, iron, calcium, potassium, phosphorus, folic acid, etc.
What is more, grapefruit can help lose weight, enhance immune system, reduce high blood pressure, prevent cold and fever, improve bad appetite.
Now see effects of grapefruit on patients with Nephrotic Syndrome.
High phosphorus and potassium level is always very common for patients with Nephrotic Syndrome. This is because kidney can't remove many wastes and toxins from body. In this case, grapefruit is not recommended for patients with Nephrotic Syndrome to eat, because it contains much potassium and phosphorus which can worsen deposition of these two substances, affecting kidney function further.
As a consequent, though there are many benefits with grapefruits, patients with Nephrotic Syndrome should avoid eating grapefruit in daily life.
To help patients with Nephrotic Syndrome know what diet they should have, we give the below suggestions:
1. Low protein
2. Low salt
3. Low phosphorus
4. Low potassium
5. Low intake of water
6. Eating more vitamins
These suggestions are very effective, and should be followed strictly in daily life for patients with Nephrotic Syndrome. If you have any question about diet in Nephrotic Syndrome or want to know more information, please contact us freely and it is our honor that we can do you a favor. Leave a message, talk with our online doctors or email us any time.