Can Nephrotic Syndrome Patients Eat Spinach
2014-04-06 07:02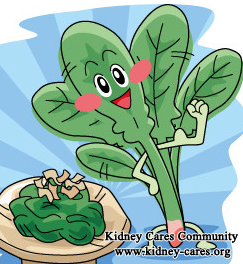 Almost all people regard spinach as an important vegetable of lowering risk for cardiovascular disease and cancer. However, it does not mean every person can eat spinach. Well then, can Nephrotic Syndrome(NS) patients eat spinach?
First, we have to say spinach is indeed a nutritious food. Spinach is abundant in vitamin A, vitamin C, calcium, phosphorus and potassium as well as other minerals. However, not everyone is allowed to eat spinach, especially for high potassium patients.
Why high potassium patients are not allowed to eat spinach?
The normal level of potassium varies from 3.5 to 5.0mEq/l. The potassium plays an important role in controlling the beating of the heart, so it is crucial to keep potassium in a normal value. However, for Nephrotic Syndrome patients, their kidneys have been injured and kidney function begins to decline. In this case, it fails to keep balance of potassium in the blood and easily cause accumulation of potassium in your body. Thus, high potassium occurs. Spinach is a kind of vegetable of high potassium. If you suffering from nephrotic syndrome still eat spinach, your high potassium in blood will be aggravated and you are more likely to have irregular heartbeat, heart diseases and stroke.
Expect for high potassium in spinach, spinach is also rich in phosphorus.
Can nephrotic syndrome patients eat spinach with high phosphorus?
With high phosphorus level in spinach, patients with NS are also not allowed to eat spinach. This is because damaged kidney function will lead to high phosphorus and low calcium level in blood. High phosphorus will affect the absorption of calcium, causing low calcium. If nephrotic syndrome patients eat spinach with high phosphorus, it will cause further low calcium and worsen bone problems.
From the above two aspects, nephrotic syndrome patients had better not eat spinach. However, it does not mean spinach has no healthy benefits. Spinach is beneficial for controlling high blood pressure, diabetes and anemia. You should decide whether to eat spinach or not according to your own medical conditions.