What Is The Diet Plan For Children With Nephrotic Syndrome
2014-04-06 03:35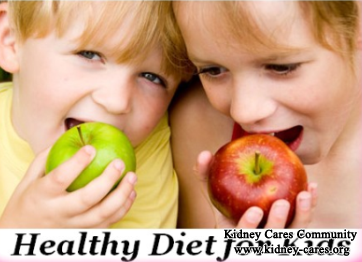 Nephrotic syndrome(NS) is a group of symptoms of kidney damage, including proteinuria caused by increased glomerular permeability, hypoproteinemia, severe swelling and hyperlipidaemia. Pediatric nephrotic syndrome refers that children suffer from this disease. Children are in the physical development stage, so after diagnosed with nephrotic syndrome, parents should arrange proper diet for his children to delay further kidney damage and at the same time have no effects on the growth of children.
The following will introduce some diet principles for pediatric nephrotic syndrome.
1. Proper high quality protein intake
Massive proteinuria leakage is the main symptom in pediatric nephrotic syndrome. If too much proteinuria leak from the body, it will affect the growth of children. Therefore, children should supplement protein. However, due to damaged kidney, too much protein intake will workload kidneys, which will worsen medical conditions. Thereby, parents should limit protein intake properly and at the same time supplement protein for their children. Besides, children with nephrotic syndrome should take high quality protein. In daily diet, fish, lean meat, milk and egg white are all high quality foods.
2. Control salt and water intake
A long-term of protein leakage will cause solute concentration in the blood decreased. To balance the solute concentration, solvent in blood will permeate into the surrounding tissues. In this condition, swelling will appear. Besides, as kidney function is badly damaged, it fails to discharge excessive sodium ions. Salt contains too much sodium ions. If children consume too much salt, which will lead to water-sodium retention and worsen swelling. Therefore, for children with severe edema, parents should control their salt and water intake.
3. Low fat intake
Nephrotic syndrome will lead to hyperlipideamia. If children take too much fat from daily diet, the hyperlipideamia will be aggravated. Furthermore, a long period of hyperlipideamia can cause cardiovascular diseases. In this light, the fat intake should be reduced to less than 30% and low cholesterol foods are also necessary.
4. Avoid eating junk foods
Almost kids love eating snacks. Many snacks contain chemical components. Too much chemical component intake will affect the digestive system as well as their immune system. To boost immunity and prevent cold, children should eat less snacks or avoid eating junk foods.
The above introduces the diet plan for pediatric nephrotic syndrome. If you have unclear about this tips, welcome to consult our online doctor.