Can Nephrotic Syndrome Patients Eat Dates
2014-04-04 03:46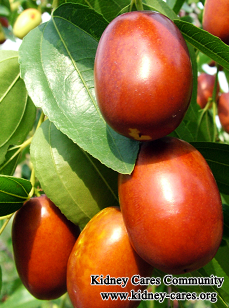 Dates contain various elements like protein, fat, sugar, vitamin A, vitamin C and calcium, etc.. Many people with illness consuming dates can get better than before. We all know kidney disease, including Nephrotic Syndrome(NS), should have a limited diet, so patients with NS should are eager to know if they can eat dates. For this question, the following article we will tell you the answer.
Dates have the the following healthy benefits. And from these aspects, patients with NS are allowed to eat dates.
1. Boost your immunity
The clinical research has shown that dates are able to promote the production of white blood cells and reduce the serum cholesterol level as well as elevate serum albumin to protect liver. Besides, dates are helpful for boosting immunity. In this case, you will keep far away from illness attack so as to reduce the risk for kidney disease.
2. Prevent high blood pressure
Rutin in dates is a kind of substance of softening blood vessels to reduce the blood pressure. This function has the ability of preventing the risk for high blood pressure. We know high blood pressure is a leading factor to kidney disease. Reducing the risk for high blood pressure is able to prevent the occurrence of kidney disease. From this aspect, we can say Nephrotic Syndrome patients are allowed to eat dates moderately and properly.
3. Benefits for bone diseases
Calcium in dates is high which is beneficial for nephrotic syndrome patients with bone problems like osteoporosis. However, different people has different illness conditions, so we can not say all NS patients can eat dates and also the amount of dates is not definite. In this case, if you want to know how much you can eat or if dates are good for you, you can leave us a message to kidneycares@hotmail.com or consult our online doctor directly.
4. Fight against cardiovascular disease
Dates contain a substance, called cyclic adenosine monophosphate, which is able to extend blood vessels, increase cardiac systolic potential and improve the myocardial nutrition. These functions are good for avoiding cardiovascular diseases. As the most common complications of Nephrotic Syndrome, reducing the risk for cardiovascular diseases may reduce the mortality rate of kidney disease.
Generally speaking, nephrotic syndrome patients can eat dates. But it does not mean all patients can eat dates. For your own condition, we should know your detailed illness conditions, and then tell you if you can eat dates or not. Thus, any question, please leave your message below.