What Foods Do Nephrotic Syndrome Patients Need To Be Avoid
2014-03-10 16:29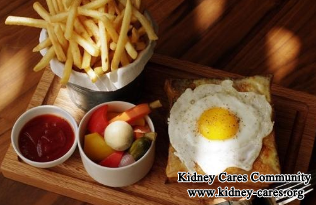 What foods should Nephrotic Syndrome(NS) patients need to be avoid? Nephrotic syndrome tends to cause massive proteinuria, hyperlipidemia, severe edema and hypooproteinemia. Thus, in daily diet, patients with NS should consume foods which will not alleviate these symptoms. And the following will give you a general diet plan which should be avoided in NS patients' diet.
Foods to be avoided in nephrotic syndrome
1. Avoid excess protein
A very high protein diet is able to cause tubular damage to kidneys, because kidneys have to filter more of the proteins. However, moderate protein intake is needed to compensate for the protein loss in urine.
2. High amounts of fat should be avoided.
Nephrotic syndrome usually causes buildup of cholesterol and triglycerides in the blood, which can damage the heart. Eating a heart-healthy diet is able to help reduce the amount of fat in your blood. Patients should avoid oily food and saturated fats.
3. Minimize salt or sodium intake
Minimize sodium intake aims to prevent fluid accumulation and edema. Foods high in sodium should be avoided like snacks, chips, salted biscuits, popcorns, pickles, noodles mixes, pastas and preservative containing foods, canned or salted meat and foods containing baking soda and ajinomoto.
The above should be avoided by nephrotic syndrome patients. The following is the food which should be eaten by patients with nephrotic syndrome.
1. A high calorie diet so as to conserve protein should be necessary.
2. Soluble fiber foods
Soluble fiber foods is able to help nephrotic syndrome patients to reduce cholesterol. And you can find the soluble fiber contained foods such as carrots, apples, oat, barley, citrus fruits and legumes and so on.
A common diet plan is recommended for nephrotic syndrome patients. However, it does not mean this diet plan is suitable for every patients. What is your condition? Share it with us and we will make a specific diet plan for you.