Causes Of Edema In Nephrotic Syndrome
2014-10-05 02:20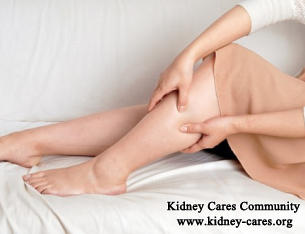 What factors can lead to edema in Nephrotic Syndrome(NS)? Edema is a common symptom in nephrotic syndrome. If edema does not get well controlled, it will worsen patients' medical conditions. Therefore, having a good knowledge of causes for swelling can prevent and treat edema. Well then, what are causes of edema in NS?
Causes of edema in Nephrotic Syndrome:
1. The imbalance of glomerular and kidney tubules
The parenchyma of kidney is composed with nephrons, and nephrons is composed with glomerular and kidney tubule. In normal case, salt, fluid and other substances filtered by glomerular will be reabsorbed by kidney tubules so as to keep dynamic balance between water and electrolytes. However, when kidneys are damaged, the imbalance of glomerular and kidney tubules will occur. In this case, the filtering ability of fluid and sodium will decline. In addition, reabsorption ability of fluid and sodium by kidney tubules does not relatively decline. Therefore, fluid and sodium retention will lead to edema in Nephrotic Syndrome.
2. Hypoproteinemia
In NS, since the permeability of glomerular basement membrane increases, massive protein will leak out from urine. In this condition, the concentration of plasma protein will decline and plasma osmotic pressure also decreases. Thus, fluid will leak into space tissues from blood vessels, causing edema. Protein is an important substance which keep balance of plasma osmotic pressure. The decrease of plasma protein concentration leads to lower plasma osmotic pressure. Fluid will flow to high osmotic pressure and edema occurs.
3. Endocrine problems
Endocrine function problem such as increased aldosterone and estrogen, is a common complication in kidney disease. This can also lead to retention of water and sodium, leading to edema or even worsen swelling in nephrotic syndrome.
Once you are diagnosed with NS, you should accept treatment in standard hospital. For the treatment of NS, Chinese herbal medicines are most effective. The herbs have function of repairing damaged kidney cells and restoring renal function. Only in this way can edema in Nephrotic Syndrome be alleviated from the root. If you want to learn the detailed information, you can leave us a message to kidneycares@hotmail.com or consult our online doctor directly.