Unique Chinese Medicine Treatments Relieve Swelling and Proteinuria Effectively
2017-04-21 09:04
Swelling and proteinuria is difficult to be managed in kidney patients. These symptoms often relapse frequently. Patients are very upset to see this result. Here we recommend unique Chinese medicine treatments to eliminate swelling and make proteinuria negative.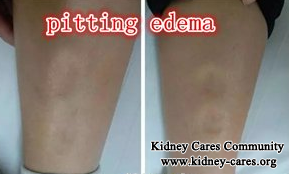 An USA patient comes to our hospital for chronic nephritis treatment. In her country, she was given steroid therapy. This can relieve her symptoms quickly but long time usage will cause series of side effects such as moon face, infection and buffalo hump. What's worse, her symptoms appear again and again once she reduces or stop the medicines.
Before she came to our hospital, her protein was 3+ and occult blood 1+. And after one month of treatment, her swelling still existed and protein still fluctuated between 1+ to 2+.
When she found our hospital, she was interested in our Chinese medicine treatments and decided to come to our hospital for a try.
Treatment in our hospital
She had pitting edema in both two legs, weight was 60.5kg and 24h urine protein was 5.33g.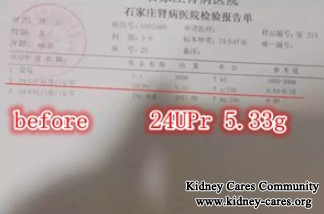 Her kidneys have been damaged and there are lots of toxins and wastes in her blood. This is the root cause of swelling and proteinuria relapse again and again. Besides, more toxins in blood will cause further kidney damage and decline of renal function. In this way, more and more toxins will accumulate in your body again. This is a vicious circle.
Therefore, the first step in relieving swelling and proteinuria is to cleanse toxins and wastes from the blood and kidney intrinsic cells.
Here we gave her Toxin-Removing Treatment which includes a series of Chinese medicine therapies such as Medicated Bath, Medicated Foot Bath, Medicinal Soup, Mai Kang Mixture and Micro-Chinese Medicine Osmotherapy, etc. After a period of treatment, her swelling disappeared. Her body weight reduced 3.4kg than before and 24h urine protein was reduced to 0.96g from 5.33g.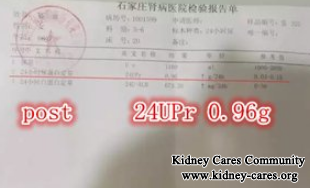 As long as you find the right hospital and take proper treatment, kidney disease can be treated well. Do not wait until everything is too late. If you have any question about kidney treatment, you can leave a message below or send an email to kidneycares@hotmail.com. We will reply you as soon as possible.