What Are Symptoms Of Glomerular Nephritis
2014-10-18 07:03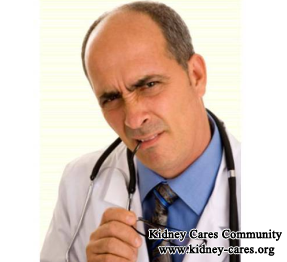 Glomerular nephritis is accompanied by two kinds of symptoms. One is urine changes and the other is system change. The following will give you some examples to help you know whether you are suffering from glomerular nephritis.
1. Urine changes
Oliguria or anuria
If your 24 hours of urine volume is less than 400ml, it is called oliguria; if it is less than 100ml, it is called anuria. When cells in glomeruli is high hyperplasia, it will oppress blood capillary, and visible component of capsular space increases and forms crescent. Besides, glomerular structure will be damaged or hardened. These can lead to declined glomerular filtration rate. Thus, oligura or anuria occurs.
Polyuria, nocturia and isobaric urine
24 hours of urine volume is more than 2500 ml, and it is called polyuria. When most kidney nephrons are damaged, effective kidney nephrons declines and crude urine function of kidney nephrons concentration declines, increased urine volume, frequent urination at night and isobaric urine will occur.
Urinary sediment inspection
If there is over 0.1% of blood in urine, the urine presents red, called gross hematuria. If naked eyes do not see blood in urine, but light microscope see red urine, this kind of blood in urine is called microscopic hematuria. Hematuria coming from glomerular is because capillary walls have been damaged severely.
Proteinuria
If protein in urine is more than 150mg, it is called proteinuria. If it is more than 3.5g, it indicates that glomeruli has been injured badly.
Cast
Cast is formed by protein, cells or cell debris condensing in glomerular. This cast is named glomerular cast.
2. Systemic changes
Renal edema
Renal edema is a result of declined plasma osmotic pressure and sodium-water retention. Patients may have face edema, abdominal edema and chest swelling. Edema is caused by massive loss of protein or declined water regulation ability of kidneys.
Renal hypertension
Due to abnormal kidney function, water retention, it will lead to increased effective circulating blood volume so renal hypertension will occur.
Serum creatinine
Creatinine is mainly excreted by glomerular. Creatinine level in blood is not affected by factors outside kidneys but closely related to glomerular filtering value. Therefore, serum creatinine level is an important indicator of kidney function.