Chinese Herbs to Improve Renal Function in Glomerulonephritis
2013-12-16 14:54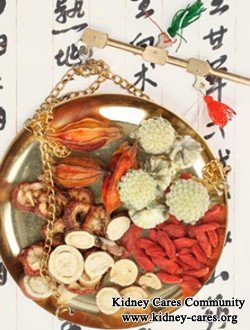 Glomerulonephritis is a kidney disorder in which glomeruli become inflamed and scarred.It is featured with gradual loss of renal function.What Chinese herbs can improve renal function in glomerulonephritis?
How renal function declines in glomerulonephritis?
The kidneys contain about a million little clusters of looping blood vessels.Each cluster is called a glomerulus.The glomeruli can work to remove the waste products and extra fluid in the form of urine.
However,in glomerulonephritis,the glomeruli become inflamed and scarred due to a variety of diseases and conditions.The impaired glomeruli are no longer working in way they should. Hence,renal function will decline.While there is a number of diseases and conditions of glomerulonephritis,the general cause is immune dysfunction.
Chinese Herbs to improve renal function in glomerulonephritis
Traditional Chinese medicine (TCM) has a long history in China and it has been applied to treat a variety of diseases and aliments.Chinese herbs are an important part of TCM.In clinic, they have showed enormous curative effects in treating glomerulonephritis. Cordyceps sinensis, rheum officinale etc are commonly used to treat glomerulonephritis. However, oral herbs can cause many adverse effects on body.
To help get rid of the side effects of Chinese herbs and make the them function better,a new application of Chinese herbs is introduced into the treatment of glomerulonephritis called Micro-Chinese Medicines Osmotherapy.
Micro-Chinese Medicines Osmotherapy is an externally applied therapy of traditional Chinese herbs.Based on patients' specific illness condition,different types of Chinese herbs will be applied in the therapy.Firstly,Chinese medicines can suppress the inflammation in kidneys and stop the releasing of inflammatory factors in body.By controlling the inflammation in kidneys,it can prevent further immune damage to kidneys.Secondly,the osmotherapy can stimulate the self-repairing of the impaired glomeruli.When the impaired glomeruli are restored,renal function will be improved remarkably.