Causes Of Proteinuria And Hematuria In Nephritis
2013-08-28 14:14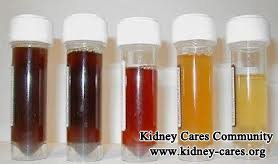 Nephritis is an inflammation of the kidney. It is a kind of autoimmune disease. There are various kinds of nephritis, such as acute nephritis, chronic nephritis, IgA nephritis and lupus nephritis and so on. For patients with nephritis, they may experience various of symptoms, like oliguria, edema, high blood pressure, proteinuria and hematuria and so on. Proteinuria and hematuria are common symptoms for patients with nephritis.
Causes of proteinuria in nephritis
Proteinuria is an abnormal appearance that the urine contains much more protein. It is a sign of nephritis. In normal condition, glomerulus has the function to filter blood. When blood passes through kidneys, glomerulus can filter out the waste products and store the nutrition which the human body needs. Glomerulus has two barriers: charge barrier and mechanical barrier. These two barriers can prevent protein from leaking into urine. However, when people suffer from nephritis, glomerulus is damaged, the glomerular filtration membranes enlarges, leading to a large amount of protein leaking into urine and forming proteinuria.
When people with nephritis have proteinuria, they can find there are lots of bubbles in the urine which can not disappear for a long time. If patients have this symptom, they have to go to hospital to take a urine test.
Causes of hematuria in nephritis
Hematuria is also called blood urine. Hematuria has two types: microscopic hematuria and gross hematuria. Hematuria is that there are more red blood cells in the urine. Microscopic hematuria can be seen only by using microscope. Gross hematuria can be seen by human naked eyes. For patients with nephritis, the glomerulus is damaged and fail to maintain red blood cells in the body, leading to red blood cells leak into urine.
When there are much more red blood cells in the urine, you will find that your urine color is bright red, pink or brown. When you go to hospital to check why you have hematuria, doctors can analyze the shape of red blood cells and judge whether it is caused by the damage of glomerulus.
If you have proteinuria or hematuria, you have to hospital to check your kidneys. If you are diagnosed nephritis, the earlier you receive treatment, the better you are. Our hospital is a specialized hospital for the treatment of kidney disease. After years of effort, our hospital has developed several characteristic therapies, such as Micro-Chinese Medicine Osmotherapy, Immunotherapy and Blood Pollution Therapy. You can learn more information about these treatments in http://www.kidney-cares.org.