Why Chronic Nephritis Patients Get Relapsed Easily
2016-07-31 08:59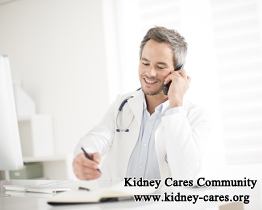 Chronic nephritis is a common type of kidney disease, and it gets relapsed easily, which worried most of the patients. In this article, we will talk about the causes of this situation and give some solutions. If you want to get answer directly, you can contact online doctor, or you can also leave a message below.
Here are some of the causes of relapses in chronic nephritis.
1. The relapse can be related with the pathology of nephritis, because some of the certain nephritis cant be reversed, such as FSGS.
2. The relapse can also be related with medicines intake. The reasonable application of steroids, cytotoxic drug, hypotensive drugs are very important, this can keep the stable of patients' condition. However, once patients use the nephrotoxic drugs, it can worsen the kidney disease and even lead to uremia.
3. Although some medicines can control the symptoms in nephritis, such as proteinuria, but patients can get relapsed once they stopped the medicines. Besides, some patients didn't follow the advice of their doctor and reduce the medicine dosage by themselves, it can also cause the relapse of the disease.
4. Chronic nephritis patients get low immunity, accompanied with anemia or hypoproteinemia, they will easily get infections in daily life, which can worsen their disease and cause the relapse of disease, and even lead to kidney failure.
5. Doing exercises or working hard can lead to fatigue or tiredness for patients, thus can also cause the nephritis relapse.
Above are some of the common causes of relapse in nephritis. So patients need to pay attention and take daily prevention and avoid the relapse.
- Have a good rest and avoid tiredness. Patients also need to avoid cold or infections in body.
- Follow the advice of doctors to take right dosage of medicines
- If patients have obvious or large amount of proteinuria, they need to take proper amount of the high quality protein depending on their own condition.
- Patients with swelling, hypertension or heart dysfunction, they need to limit the daily salt intake.
All these suggestions can be beneficial for nephritis patients, which can avoid the relapse of the disease. If you want to learn more, you can send e-mail to kidneycares@hotmail.com, or contact with whatsapp +8618330110929.