Can Chronic Nephritis Patients Eat Shrimp
2015-04-04 08:00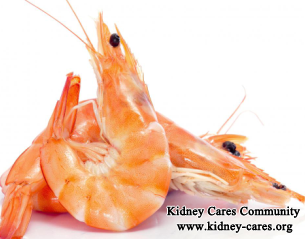 Can chronic nephritis patients eat shrimp? Shrimp is one of the delicious foods and it contains rich animal protein. Is it suitable for nephritis patients?
Once you are diagnosed with chronic nephritis, kidney function will decline. They need to control protein, water and sodium intake. Of course, they should meet their body requirement. Whether nephritis patients eat shrink is analyzed as below:
1. shrimp contains high quality protein which can be eaten by chronic nephritis patients. However, if patients are allergic to shrimp or patients suffer from purpura, they cannot eat shrimp.
2. If patients have no swelling, they have no need to limit salt, water and protein intake, and they can eat shrimp moderately. When nephritis patients suffer from swelling, they need to follow a low salt diet. Nephritis patients with severe swelling cannot eat shrimp and other stimulating foods.
3. Chronic nephritis patients are easy to suffer from hyperphosphatemia while shrimp contains rich phosphorus. At this condition, shrimp cannot be eaten otherwise it will worsen hyperphosphatemia and cause further kidney damage.
4. When nephritis is not so severe and if it can be controlled timely, there is no strict limitation on protein. If you limit protein intake strictly, malnutrition and anemia may be triggered. You can consume protein according to your medical condition. You can eat shrimp occasionally and moderately.
Whether nephritis patients can eat shrimp mainly depends on their own medical conditions. Nephritis requires right nursing care. Any doubt, please consult our online doctor directly. We will reply you as soon as possible.