What Foods Are Good For Chronic Nephritis Patients
2015-01-05 01:35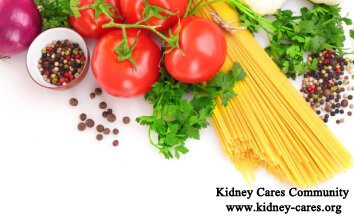 Diet affects our physical condition to a large degree. Improper diet can induce illness, aggravate disease and affect the treatment of illness, especially for nephritis patients. Many nephritis patients experience various complications or severe medical conditions due to poor diet control. Well, what foods are good for nephritis patients?
1. low sodium and fat
When kidney disease patients have swelling or high blood pressure, they should limit the intake of sodium. Low sodium intake can avoid water-sodium retention and prevent worsening edema and hypertension. Low fat intake can avoid arteriosclerosis so we should eat more plant fat and eat less animal fat.
2. high quality but low quantity protein intake
Too much protein intake can workload your kidneys so it is a must to control the intake of protein. However, diet is an important nutrient and indispensable, so we need to consume high quality with essential amino-acid to meet our body need. Eat less plant protein and this is because plant protein contains lots of purine bases. Eating more will put more burden on kidneys. On the contrary, animal protein such as milk, egg, fish and lean meat can be consumed relatively more.
3. supplement calories
If calories are not enough, they will consume protein. As a result, creatinine level and urea nitrogen level will be elevated and medical condition will be worsened. Therefore, kidney disease patients can choose some high calories but low protein foods like pumpkin, dasheen, sweet potato and Chinese yam to meet the requirement of the body.
4. low potassium diet
Hyperkalemia is a common complication of chronic kidney failure. Severe hyperkalemia can lead to heart stop and even death. To prevent hyperkalemia, potassium intake of per day should be limited below 2 grams and people should be careful when taking high potassium foods.
5. high calcium and low phosphorus
Low calcium and high phosphorus is a common disorder of electrolytes so the diet should be high calcium and low phosphorus. Unfortunately, high calcium foods are usually also high phosphorus foods so you should be very cautious when eating them.
6. low purine diet
High purine is able to burden your kidneys, particularly for stroke patients. High purine diet will trigger strike and aggravate stroke. Foods like celery, spinach, peanut and animal internal organs should be avoided.
7. vitamin intake
Supplement enough vitamins and microelement like vitamin B, vitamin C and iron, calcium as well as zinc. These helps protect kidneys.
8. high fiber intake
Kidney disease patients should eat high fiber foods that contribute to keeping your bowel open, expelling toxins and balancing your metabolism.
Diet is an important safeguard on the way of kidney disease treatment. Besides, it will bring a hope for kidney disease patients if effective treatment is also taken.