What is Medullary Sponge Kidney (MSK)
2012-10-22 10:17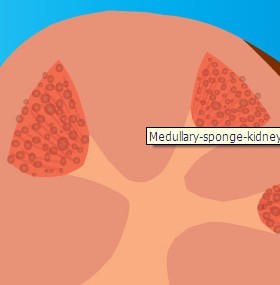 If, for some reason, you have a kidney that could form stones as quickly as possible, you might end up with something like Medullary Sponge Kidney (MSK).
Medullary Sponge Kidney (MSK) is a medical condition wherein a portion of the kidneys known as medullary pyramids is found to have dilated tubules (tubules are small tubes through which urine could drain) and numerous fluid-filled small cysts. The cysts are small, ranging from 1 to 8mm, and will give the kidney the appearance of a sponge. These cysts and dilated cuts can prevent normal flow of urine and make it easier to develop kidney stones and infections. Stones in MSK are numerous and can be seen throughout the kidneys.
Clinical diagnosis for Medullary Sponge kidney is made with imaging studies, such as intravenous pyelogram, contrast CT scan, etc. Dilated tubules which are the hallmark of MSK can be detected through intravenous contrast testing.
People with Medullary Sponge Kidney(MSK), in addition to kidney stones, could also develop other conditions including microscopic or gross blood in urine, abdominal pains, testicular pains, urinary tract infections, hypercalciuria (high calcium levels in the urine) and renal tubular acidosis( a disorder within the kidneys handling of acids).
Current treatment for Medullary Sponge Kidney (MSK) mainly focuses on prevention and treatment of stones, management of pains and prevention of infections. In people with kidney stones, drinking sufficient water and treatment for high urinary calcium and/ or potassium citrate are used to relive their condition. Urinary and blood testing can be applied to evaluate certain metabolic abnormalities that may increase your risk for stones. For severe cases people may require a surgery to remove the stones. Herbal treatment to accelerate blood circulation, reduce infections and prevention occurrence of stones may assist the treatment of Medullary Sponge Kidney(MSK).
The above is a general introduction about Medullary Sponge Kidney (MSK). For concerning problems about the disease, you may contact us directly, and our free experts will be ready to help you!