Toxin-Removing Treatment for Membranous Nephropathy Effectively
2017-06-22 07:56
Toxin-Removing Treatment is a series of Chinese medicine therapies. It is natural and effective. A patient with Membranous Nephropathy stage 3 comes to our hospital for this therapy. The curative effect is very good.
After 20 days of Toxin-Removing Treatment, his swelling disappears, body weight reduces and 24h urine protein quantity is reduced to 3.33g from 10.37g. Now he is very happy. His condition will become better and better.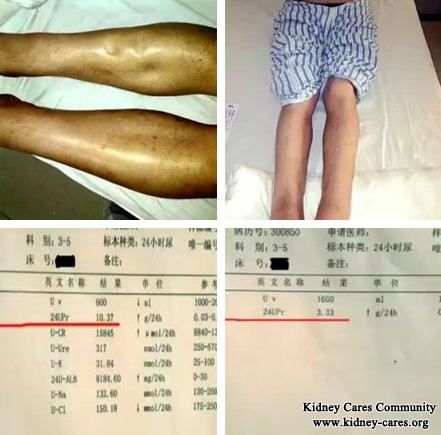 Once your kidneys are damaged, there will be lots of toxins and wastes depositing in your blood. Without cleansing your blood, you can not get a good result. Because toxins and wastes can cause further kidney damage and reduce the efficacy of medicines you take. This is the reason why more patients do not have a result even though they take various medicines. Swelling and increased 24h urine protein both come from damaged kidneys. Thus, the treatment for swelling and protein in urine should treat injured kidneys. Only in this way can you get a good result.
Toxin-Removing Treatment treats Membranous Nephropathy effectively. It first purifies your blood. Chinese medicines can remove toxins and wastes from blood and kidney cells through increasing urine volume, improving bowel movement and making you sweat a lot. This can provide you a clean blood environment. Then Chinese medicines can restore kidney damage and improve renal function through dilating blood vessels, improving blood circulation, preventing inflammation and coagulation, degrading extracellular matrix and providing nutrients.
With our Toxin-Removing Treatment, this patient has a good improvement. We believe he will become better and better with further treatment. If you want to learn more information about our therapy, you can leave a message below or consult our online doctor directly.