What Are Treatment Options When Lupus Attacks Kidneys
2015-07-05 03:38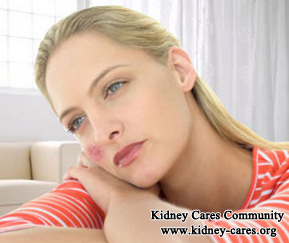 What are treatment options when lupus attacks kidneys? Lupus is a chronic and autoimmune disease that affects several parts of the body including joints, blood, skin and kidneys. The immune system of those with lupus does not function properly. Lupus creates autoantibodies that fight and damage the cells, tissues and body organs. When lupus attacks kidneys, kidney disease happens. Usually lupus nephritis is a disease of the kidneys due to lupus. Well, what is the treatment for lupus nephritis?
As the above mentioned, lupus is autoimmune disease and immune system of those with lupus does not function properly. Thus, the treatment for lupus should start from immune system and make abnormal immune system function properly.
Immunotherapy is strongly recommended to treat the autoimmune disease. Lupus nephritis is an autoimmune disease, which is the combination of antigens and antibodies forming immune complexes. When immune complexes deposit in kidneys, it will cause kidney inflammation and cause kidney damage. Immunotherapy can improve patients' own immune system to stop further damage to kidneys.
How does Immunotherapy treat Immunotherapy?
Immunotherapy is a combination of Chinese medicines and western medicines. Western medicines can inhibit abnormal immune reaction in kidneys which can prevent further damage to kidneys and Chinese medicines can help rectify disorders and imbalances in the immune system. Besides, Chinese medicines can also repair damaged kidneys and improve renal function through dilating blood vessels, preventing inflammation and coagulation, degrading extracellular matrix and providing necessary nutrients.
Lifestyle changes for Lupus Nephritis
Being hydrated
Maintaining a low sodium intake, especially if one has hypertension
Maintaining a low cholesterol diet
Do not smoke or drink alcohol
Maintain your blood pressure and weight
Following a low potassium intake, low phosphorus, low protein (for patients with already diminished kidney function )
Avoid renal toxic agents such as NAAIDS and so forth.
If you have any question, please leave a message below or send email to kidneycares@hotmail.com. We will try our best to help you.
Our Treatment Effect
This patient has leg wound from Lupus Nephritis
Move the mouse to enlarge the picture
He got no good treatment in his country. In order to get better treatment, he came to our hospital for Chinese medicine treatments. After a period of our treatment, his wound is healed. You can look at the picture above.