Is There A New Treatment for Lupus Nephritis
2015-01-10 06:38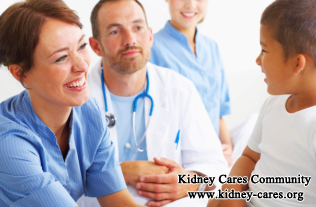 What is the treatment for lupus nephritis? Lupus nephritis is an autoimmune disease, so in many countries, patients take hormone medicines to control the disease. however, as immune complexes can not be excreted away and inflammatory response appears again once they stop taking medicines or reduce the dosage. Lupus nephritis under such a condition is easy to relapse. Well, is there any new treatment for Lupus Nephritis?
1. To start, let's know something about lupus.
SLE is an autoimmune disease which may typically cause harm to the skin, joints, kidneys and brain.
Normally, your immune system can protect your body from outside invader and it can tell from the difference between foreign harmful substances such as bacteria, virus and the stuff inside you. However, in an autoimmune disease, the immune system cannot tell the difference between harmful substances and healthy ones. SLE may damage different parts of kidneys thus resulting in lupus nephritis.
2. What is the treatment?
Lupus Nephritis is attributed to autoimmune disorder, in which the glomeruli are inflamed. Immunotherapy aims at regulating the autoimmune process and controlling the symptoms of lupus nephritis by restoring the impaired glomeruli. Also it can enhance the immunity whereby the frequent infections such as urinary tract infection, colds can be alleviated obviously.
Micro-Chinese Medicine Osmotherapy
Micro-Chinese Medicine Osmotherapy is a new application of traditional Chinese medicines. It is an external therapy which adopts the good and rejects the bad of traditional Chinese medicines.
Micro-Chinese Medicine Osmotherapy can repair the impaired kidneys and improve the immunity through its curative effects including anti-inflammation, degradation, blood vessel expansion and improving self-healing ability of the body.
The above are two new therapies for Lupus Nephritis. In addition, in our hospital, we also have other advanced therapies such as Mai Kang Mixture, Enema Therapy, Acupuncture, Cupping Therapy and Steaming Therapy, etc. They all have effective treatment for lupus nephritis. If you are interested in them, please leave us a message below or consult our online doctor directly.
Our Treatment Effect
This patient has leg wound from Lupus Nephritis
Move the mouse to enlarge the picture
He got no good treatment in his country. In order to get better treatment, he came to our hospital for Chinese medicine treatments. After a period of our treatment, his wound is healed. You can look at the picture above.