Tips for Lupus Patient with High Creatinine Level
2014-10-01 02:45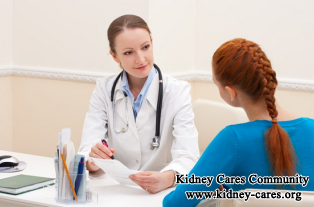 Lupus patients also run high risk for high creatinine level in blood, because lupus is also a cause for kidney problem. Similar with others, lupus patients with high creatinine level also need to get their serum creatinine level controlled in a low level, otherwise, dialysis is needed.
The followings are several tips that are helpful for lupus patients with high creatinine level in blood. If you are just such a patient, I am sure you will be benefited a lot.
1. Treat lupus effectively
For people with lupus and high creatinine level, tight control of lupus is the first step to reduce creatinine level in blood. Therefore, they need to make sure they can control their lupus well. If the treatment they are taking now can not help to bring their illness under control, alternative treatment is needed.
2. Control blood pressure in normal range
Not everyone with lupus definitely suffer from high blood pressure, but one fact that we need to know is high creatinine level is easily accompanied with elevation of blood pressure. Therefore, please measure your blood pressure regularly and make sure it is controlled in the normal range.
3. Kidney-friendly foods
High creatinine level for Lupus patients is an indicator for kidney problem. In general, the poorer the kidney condition, the higher the serum creatinine level. So if you want to lower your creatinine level down to the normal range, you need to avoid foods that are bad for kidney and try to include kidney-friendly foods in dining-table.
4. Treatment to repair kidney damages
Creatinine is the waste that needs to be removed out of the body by kidney, so high creatinine level indicates kidney damage. Therefore, when lab tests show high creatinine level in blood, please take treatment to repair kidney damages as soon as possible, as to avoid worsening of kidney condition.
5. No smoking and drinking alcohol
Both smoking and drinking alcohol are bad for the lupus and kidney problem, so if you have developed these bad habits, please kick them as quickly as possible. You can ask your doctor, family member or friends for help as for this problem.
High creatinine level in blood is an indicator of kidney problem, but actually many lupus patients do not know about it. When test result shows high creatinine level in blood, they do not know if what it mean and if they need to worry about it. The above are the several tips that can help lupus patients know well about what they should do. If you have any questions about it, please consult our online doctor for help.