How to Manage Fatigue with Lupus Nephritis
2015-05-08 03:57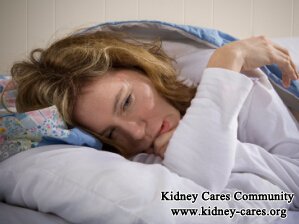 Lupus Nephritis is a kind of kidney disorder caused by lupus attacking your kidneys. Some Lupus Nephritis patients complain that after walking several steps, they feel very tired. How to manage fatigue with Lupus Nephritis?
-Improve anemia.
The damaged kidneys can not secrete enough erythropoietin to stimulate bone marrows to make red blood cells, so it is likely for you to suffer from anemia. Besides, the accumulated waste products in the blood shortens the lifespan of red blood cells so as to worsen your anemia. Fatigue is one of the symptoms of anemia. In such case, you should supplement EPO and iron supplement to improve anemia. When anemia is improved, you will feel energetic.
-Do some gentle exercise regularly
Though you always feel very tired, it can not halt you from doing exercises. Do some gentle exercises, such as walking and jogging is very good for health. Because it can strengthen your muscles to make you energetic.
-Have a good rest
When you feel exhausted, you should have a good rest to refresh yourself. Do not do strenuous exercises and overwork, because they may make your conditions worse.
-Follow a renal-friendly diet
Improper diet can put extra stress on your kidneys and worsen your kidney disease so as to make you weak. For Lupus Nephritis patients, they should follow a renal-friendly diet, which can be acquired with the help of dietitian.
-Promote kidney function
Lupus Nephritis is an autoimmune disease, so we should set about regulating the abnormal immune system. Immunotherapy is a combination of western medicine and Chinese medicine, which can cleanse the cycling immune complexes in the blood to reduce their damage to your body. They can also set up a good blood environment for kidney self-healing and regulate the abnormal immune system to protect your kidneys. After a period of treatment, you can become energetic.
How to manage fatigue with Lupus Nephritis? Hope the above information is helpful for you. For more information, please contact online doctor or leave a message below.
Our Treatment Effect
This patient has leg wound from Lupus Nephritis
Move the mouse to enlarge the picture
He got no good treatment in his country. In order to get better treatment, he came to our hospital for Chinese medicine treatments. After a period of our treatment, his wound is healed. You can look at the picture above.