Should Lupus Nephritis Patients Control Fluid Intake
2015-01-28 09:55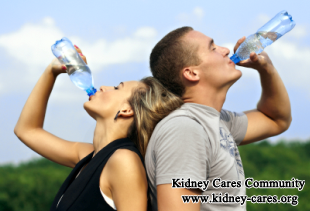 Fluid is an indispensible part in our daily life. More water intake is beneficial for body health. As for lupus nephritis patients, kidneys are damaged and metabolism is disordered. Excessive water intake is more likely to worsen illness conditions, especially for swelling patients. Well, how much water intake should lupus nephritis patients drink per day?
As for healthy people, drinking more water is able to discharge toxins and wastes and they had better drink 8 cups of water every day. However, as for lupus nephritis patients, water intake per day should depend on patients' illness conditions, especially for swelling patients.
1. patients without swelling
If patients in the early stage of lupus nephritis have no swelling, they have no need to limit water intake. Besides, patients with urinary tract infection (UTI) should drink more water, which is beneficial for removing bacteria and preventing the deterioration of kidney disease.
2. patients with swelling
Lupus nephritis patients with mild edema should drink water according to their urine output. The aim is to prevent excessive water intake from resulting in water-sodium retention. Water-sodium retention can worsen swelling. As for severe edema and no urine output patients, they should limit water intake strictly and had better not drink any water. If they feel thirsty, they can moisture your lips with water.
Water management can only alleviate edema to some extent. If you want to treat edema radically, you should treat lupus nephritis. Thus, we recommend traditional Chinese medicine and western medicine-called Immunotherapy. This therapy can clean immune complexes depositing in the kidney and improve immune system. We cannot guarantee lupus nephritis can be cured, but we can repair your damaged kidneys and improve your renal function. In this way, not only edema but also other symptoms of lupus nephritis will be alleviated greatly and effectively.