How to Improve Anemia in Lupus Nephritis
2014-12-17 08:52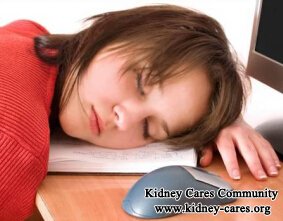 Lupus is an autoimmune disease that causes your immune system begins attacking different areas of your body. When it attacks your kidneys, Lupus Nephritis occurs. It is said that Lupus Nephritis can affect up to 60% of people with lupus. Most Lupus Nephritis patients have anemia. How to improve anemia in Lupus Nephritis?
How does Lupus Nephritis cause anemia?
-For Lupus patients, their B cells becomes overactive and proliferates abnormally, leading to the production of various autoantibodies, one of which is anti erythrocyte antibody. This kind of antibody decreases the number of red blood cells.
-When your kidney function declines, the damaged kidneys can not secrete enough erythropoietin to stimulate bone marrows to produce red blood cells. Besides, the accumulated waste in the blood shorten the lifespan of red blood cells. This is also a contribution to anemia.
-Some patients use steroids and immunosuppressants to treat Lupus Nephritis. Improper use of those medicine may cause impair to gastric mucosa so as to cause bleeding. This can give rise to chronic blood loss anemia.
Because of the above factors, many Lupus Nephritis patients have severe anemia.
Treatment to improve anemia in Lupus Nephritis
Erythropoietin injection and iron supplements can help improve anemia, but the fundamental way is still to regulate the abnormal immune system and improve kidney function. Immunotherapy combines both western medicine and Chinese medicine. Chinese medicine can reduce the side effects of western medicine. And western medicine can help Chinese medicine take effect quickly. The combination can help you achieve a better curative effect. The whole treatment is classified into six aspects, namely immune diagnosis, immune clearance, immune blockage, immune tolerance, immune regulation and immune protection. The detailed information about Immunotherapy can be acquired by leaving a message below or chatting with online doctor.
Anemia could cause many body malaise, such as weakness, shortness of breath, cold limbs, pale skin, headache, etc. Therefore, importance should be attached.