Why Lupus Nephritis Patients Should Not Have Sun Bath
2014-08-27 08:56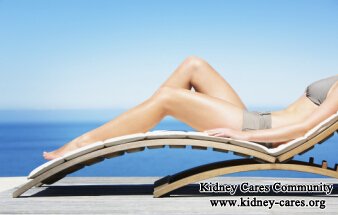 Lupus Erythematosus is a common skin disease and suffering from this disease is a great harm to the patients. The occurrence of Lupus Nephritis (LN) can be caused by many factors. Many people do not pay attention to life style or sun bathe which will aggravate this disease. Well then why lupus erythematosus patients are not allowed to bathe in sun? The following will tell you the reason.
Many patients with lupus erythematosus nephritis still have a walk in summer's sunshine. In fact, it is very bad for them. Because lupus erythematosus symptoms are allergic to sunshine. If left uncontrolled, it is more likely to make the disease worsen. People with lupus erythematosus should keep far away from direct sunshine, especially for lupus nephritis patients. In hospitalization, doctors will also let the patients keep far away from the beds which are near windows, since direct sunshine will worsen patients' conditions and inducing various disease. This also leads to the difficult of therapeutic process.
What's more, lupus erythematosus patients should be away from some foods and medications including penicillin, ciprofloxacin, celery and spinach and other foods inducing lupus erythematosus. Lupus Nephritis patients had better take umbrella and topee outside. In addition, do not walk along river or sand beach as ultraviolet radiation bounces directly off sand and water and on to the skin.
The above are reasons why lupus erythematosus patients should not bathe in sun. Lupus erythematosus is a kind of skin disease. Although sun bath is good for our body health, it will bring great harms for Lupus Erythematosus patients and even cause a deadly below. Therefore, patients should avoid sun bath and protect their skin well.