Is Strawberry Good For Heart And Kidney In Lupus Nephritis
2014-05-10 09:36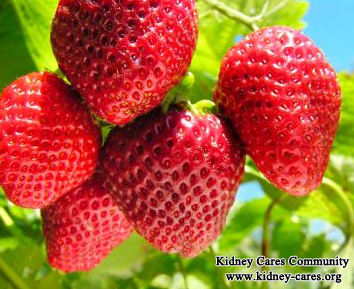 Fresh summer strawberries are one of the most popular, refreshing and healthy fruits on the planet. Strawberries are rich in nutrients like vitamin C, potassium, folic acid and fiber. This food consumption goes up, the risk of heart disease, diabetes and high blood pressure in lupus nephritis does down.
This article is on the health benefits of strawberries on lupus nephritis patients with heart and other kidney-related problems.
1. Heart disease
Anthocyanins, a class of flavonoids in berries can reduce the risk of a heart attack. Also the high polyphenol content in strawberries may also reduce the risk of cardiovascular disease by preventing platelet build-up and reducing blood pressure via anti-inflammation mechanisms. What's more, the fiber and potassium in strawberries also help heart health. One study has proven that 4069mg of potassium per day had a lower risk of death from ischemic heart disease than those who consume less potassium. However, it does not mean all lupus nephritis patients can eat strawberries too much. For those who have high potassium level, they should not eat too much strawberries or avoid eating them.
2. Blood pressure
Potassium in strawberries is high and this helps those with high blood pressure. Hypertension is a leading factor of kidney disease. So lowering high blood pressure reduces the risk of kidney disease.
3. Diabetes
Strawberries contain a low glycemic index and high in fiber, which is good for regulating blood sugar and keep it stable by avoiding extreme highs and lows. Thereby, it is helpful for those who are suffering from diabetic nephropathy or those who are at a risk of having diabetic kidney disease.
4. Constipation
Constipation is also a symptom in kidney disease patients. Strawberries are high in water content and fiber, which can help to keep you hydrated and your bowel movements regular. Fiber contributes to minimize constipation. Regarding patients with swelling, they should pay attention to the amount of strawberries carefully. It is wise to start a small amount.
Generally, lupus nephritis patients can eat strawberries for a variety of medical purposes such as alleviating kidney stones, high blood pressure, diabetes, constipation and heart disease as well as gout.