Is It OK For Lupus Nephritis Patients To Eat Eggplants
2014-04-14 08:38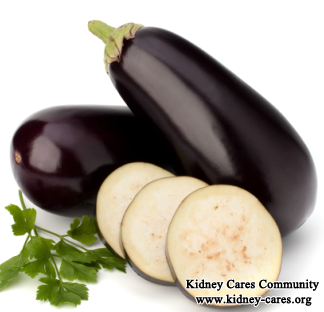 Eggplants contain many vitamins and minerals that are beneficial to one's health. Lupus Nephritis(LN) is a kidney disease which is caused by Systemic Lupus Erythematosus(SLE). And diet plan is an important treatment in controlling this disease. Eggplants have benefits, but the problem is whether LN patients can eat eggplants.
In fact, there is no such a diet that is suitable for every lupus nephritis patient due to varied medical condition. However, this article tells the healthy benefits of eggplants to Lupus Nephritis patients.
1. Manage diabetes
For centuries, eggplants have been used for controlling and managing diabetes. Modern research validates this role, thanks to the high fiber and low soluble carbohydrate content of the eggplant.
2. Control high blood pressure
Eggplants are high in bioflavonoids, which are known to control high blood pressure and relieve stress. We all know a long term of high blood pressure will do damage on kidneys. In this case, controlling hypertension is imperative for LN patients.
3. Strong antioxidant properties
Eggplants are also high in chlorogenic acid, a plant compound known for its strong antioxidant properties. Experts believe that chlorogenic acid has antiviral properties which can help treat and prevent diseases caused by viruses.
4. A large quantity of minerals
Eggplants contain a large quantity of minerals such as phosphorus, calcium, magnesium and potassium. These minerals help prevent health problems such as arthritis, osteoporosis, and heart disease.
Lupus Nephritis patients should start including eggplant in their diets. Eggplants provide many healthy benefits that can not be provided by other vegetables. However, if eating eggplants incorrectly and excessively, it also is bad for the body health. In this case, you should consult your doctor or our online experts directly to eat eggplants correctly and moderately.