Why Does Chronic Kidney Failure Cause Pleural Effusion
2017-06-24 07:53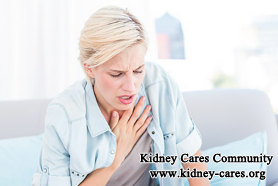 Chronic kidney failure can cause a series of complications and pleural effusion is one of them. Severe pleural effusion can threaten your life. What causes this and is there any treatment for pleural effusion?
Cause of pleural effusion in chronic kidney failure
Pleural effusion is excess fluid that accumulates between the pleura, the fluid-filled space that surrounds the lungs. You have two kidneys. Their main job is to filter wastes and excess fluid out of your blood to make urine. When your kidneys are damaged, excess fluid will accumulate in your body, causing swelling. The fluid can spread to every part of your body including your pleura. In this condition, pleural effusion occurs.
What is the treatment for pleural effusion in kidney failure?
The radical therapy is to repair injured kidney tissues and improve your renal function. Here our hospital recommends Toxin-Removing Treatment which includes a series of Chinese medicine therapies like Micro-Chinese Medicine Osmotherapy, Medicated Bath, Medicated Foot Bath, Medicinal Soup, Moxibustion Therapy, Mai Kang Mixture and Steaming Therapy, etc. According to your specific illness condition, our doctor will make individualized treatment plan for you. Our therapies first purify your blood and then improve renal function. Toxin-Removing Treatment can draw out toxins and wastes from your blood through improving your bowel movement, increasing your urine and making you sweat. This can pave a good way for recovering your renal function. Chinese medicines can expand blood vessels, improve blood circulation, prevent inflammation and coagulation, degrade extracellular matrix, provide nutrients and remove blood stasis. All these speed up the recovery of renal function.
When your renal function is improved, excess fluid will be discharged from your blood. Pleural effusion can be relieved effectively. Of course, for someone with severe pleural effusion, dialysis is necessary before taking treatment to improve renal function. You can contact us via kidneycares@hotmail.com or 008618330110929.