No Protein and Hematuria, But Diagnosed With Kidney Failure
2017-05-06 02:36
The progression of kidney disease should be like this, foamy urine, swelling, protein in urine and hematuria and then elevated creatinine level. However, Uncle Cheng's condition is not like this. When he was diagnosed with kidney failure, he has ever not experienced protein in urine and occult blood. But his creatinine level has elevated to 690umol/L.
Last year, due to severe vomiting and nausea, he went to hospital for check up. He was given the result "Bilateral kidney stones, hydronephrosis and kidney failure stage". This bad news really scared him.
During his hospitalization, he was given hypotensive medications and medicines for high creatinine level. He was hospitalized for several times and each time the medicine is same. His creatinine level was sometimes high and sometimes low. In order to seek radical treatment, his son found about our hospital through Internet. He communicated with our doctor via wechat and finally decided to come to our hospital for unique Chinese medicine treatments.
In our medical reports, his creatinine level was 369umol/L and uric acid level was high to 667umol/L.
Medicines can do reduce high creatinine level to some extent but renal function is not improved. Toxins depositing in your body will cause persistant damage to your kidneys. In order to cleanse toxins timely and treat kidney disease from the root, our doctor gave him Circle Therapy, Micro-Chinese Medicine Osmotherapy, Medicated Foot Bath and Oral Chinese medicine soup.
With our Chinese medicine treatments, his nausea and vomiting disappeared. His creatinine level was reduced to 317/L and uric acid was lowered down to 323umol/L which is within normal range.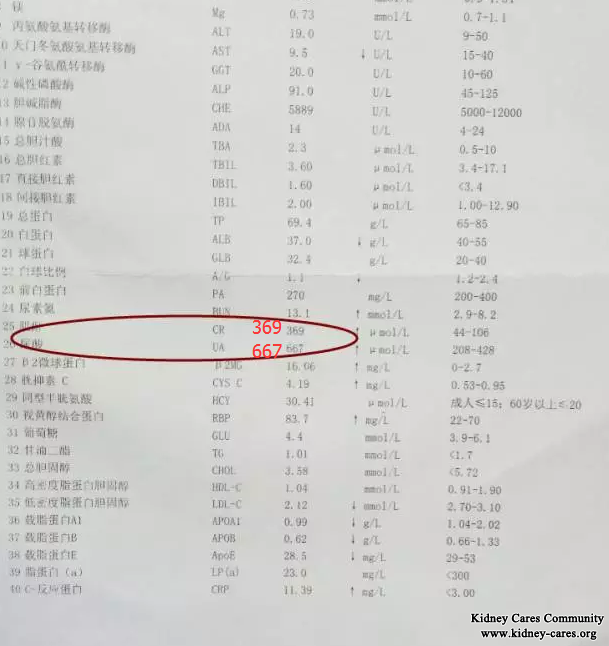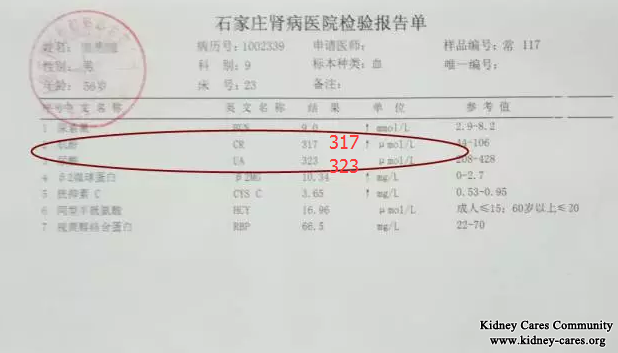 We need to observe any changes of our body. And take timely treatment once kidney disease is diagnosed.
If you want to learn detailed information about our Chinese medicine treatment, you can leave a message below or consult our online doctor directly.