Family Member Of Foreign Patient Loves Chinese Culture Due To TCM
2017-04-14 02:37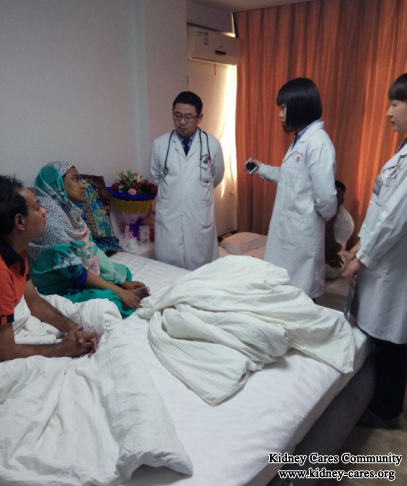 "One thin needle can treat disease and the root, rhizome and leaves of various plants are all medicines. Chinese medicine is really miraculous and Chinese National Opera is also fabulous". Lahr said happily. He also said it is very convenient for shopping and taking a bus in China. He wants to live in China with his wife for a long time and experiences the extensive and profound traditional Chinese culture.
Lahy, 48 years old, comes from Bangladesh and works in local government. He has a good relationship with his wife and his neighbors all admire his happy life. However, in the end of last year, his wife went to hospital for a check up due to discomfort. The result scared him. His wife was diagnosed with kidney failure.
"At that time, I am very fearful. Two years ago, my sister was die of kidney disease". Lahr said sadly. He did not want his wife to suffer from this pain again.
In order to seek better treatment, Lahr took his wife to India for treatment. But the therapeutic effect was not perfect. The wife's little brother is a businessman. In the early years, the brother came to China for business so the brother had some knowledge to Chinese medicine. After learning his sister's condition, he suggested Chinese medicine therapy for a try. Then Lahr accompanied his wife to China for treatment.
In our hospital's systematic and formal Chinese medicine treatment, his wife had a great improvement. Seeing this result, Lahr relaxed a lot.
During the treatment process, they also experienced Chinese culture like stay plays. They liked them very much and gave a thumbs-up gesture.
Besides, Lahr suffers from serious cervical spondylosis. The pain makes him difficult to carry arm. After learning his ocndition, our doctor gave him massage and cupping to treat his cervical spondylosis. Lahr was very moved and said Chinese people are very hospitable. They volunteer to help others. They are very kind.
"Do you want to try this pie"? Our nurse said to Lahr. This pie was praised by Lahr. He could not believe some leaves and weeds can be cooked for dishes.
"In China, there is not only marvelous Chinese medicine, but also Chinese opera, delicious food and traditional festival activities. I love China better. I think I have fallen in China". Lahr said excitedly.
Our Treatment Effect
High creatinine level is dangerous to a kidney patient
Move the mouse to enlarge the picture
If you also want to reduce your high creatinine level, please look at this patient's report. When he was just hospitalized in our hospital on Dec 11, 2018,
His creatinine:1028umol/L,
urea: 39.7mmol/L
UA : 513umol/L
After a period of our treatment,
his creatinine:331umol/L, urea:16.1mmol/L
UA :325umol/L on Jan 5, 2019.
His condition was getting better and better. You can also get better.
For a CKD patient, you can choose Chinese medicine treatments to control your condition. your creatinine level can be reduced radically, symptoms can be alleviated and more importantly, your renal function will be improved. In this way, you can stay away from end stage kidney disease and avoid dialysis.