Causes and Treatment for Itchy Skin After Dialysis
2016-08-20 09:40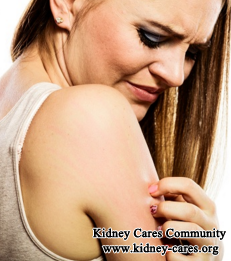 Many dialysis patients ask why they still have itchy skin after dialysis. Itchy skin is so unbearable. Here we will tell you the causes and treatment for itchy skin after dialysis.
1. Metabolic disorder leads to itchy skin
Metabolic disorder is common to be seen in chronic kidney failure patients. Since kidneys excrete less phosphorus from your body, phosphorus level in blood elevates frequently. In this condition, calcium level will decrease. High phosphorus and low calcium level will stimulate the secretion of parathyroid hormone, causing secondary hyperparathyroidism. The researches have shown that hyperparathyroidism can lead to itchy skin. It can also cause hypercalcemia, calcinosis cutis, skin mast.
You should limit foods with rich phosphorus. Phosphorus intake should be less than 600-1200ml. Avoid bean products and animal organs. And you should consume active vitamin D to supplement your calcium level. Adjust dialyzate to proper calcium concentration so as to avoid hypercalcemia.
2. Nitrogen metabolites retention causes itchy skin.
Nitrogen metabolites retention can stimulate your skin and make sebaceous glands and sweat gland shrink. In this condition, patients can have dry skin and itchy skin. Nitrogen metabolites retention is from dialysis insufficiency.
Reduce the reuse of low flux dialyzer and increase dialysis times and patients can rub their skin with ice or cold towel.
3. Injured kidney tissues
The radical cause for itchy skin in dialysis patients is damaged kidney tissues. Dialysis only removes excess fluid and wastes from the body but fail to repair kidney damage. Thus, it is vital to restore injured kidney tissues and improve renal function. Here we recommend Toxin-Removing Treatment. It includes a series of Chinese medicine therapies such as Medicated Bath, Medicated Foot Bath, Mai Kang Mixture, Medicinal Soup, Moxibustion Therapy and Steaming Therapy and Circle Therapy, etc. They first cleanse your blood and then improve your renal function in a clean blood environment. Once kidney function is improved, metabolic disorder, nitrogen metabolites retention can be relieved radically. Moreover, it is also possible to reduce dialysis times or even avoid dialysis. In this way, itchy skin can disappear naturally.
The above has given you causes and treatment for itchy skin in dialysis patients. If you have any question, you can leave a message below. We will reply you as soon as possible.
Our Treatment Effect
High creatinine level is dangerous to a kidney patient
Move the mouse to enlarge the picture
If you also want to reduce your high creatinine level, please look at this patient's report. When he was just hospitalized in our hospital on Dec 11, 2018,
His creatinine:1028umol/L,
urea: 39.7mmol/L
UA : 513umol/L
After a period of our treatment,
his creatinine:331umol/L, urea:16.1mmol/L
UA :325umol/L on Jan 5, 2019.
His condition was getting better and better. You can also get better.
For a CKD patient, you can choose Chinese medicine treatments to control your condition. your creatinine level can be reduced radically, symptoms can be alleviated and more importantly, your renal function will be improved. In this way, you can stay away from end stage kidney disease and avoid dialysis.