Chinese Medicine Treatments Help You Stay Away From Complications of Kidney Transplant
2015-12-28 08:59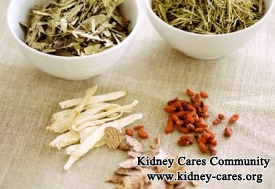 You may consider kidney transplant as the best treatment for you. However, it is really not. Even if you have a successful kidney transplant, you may also suffer from some complications of post-transplant. Chinese Medicine treatments help you stay away from these complications.
First, we need to know complications of kidney transplant.
1. Infection
Patients after kidney transplant are easy to get infection and the factors include declined immunity and the application of immunosuppressive agents. Common infections include pulmonary infection, urinary infection and incision infection.
2. Cardiovascular complications
Cardiovascular complications are a major cause of mortality in kidney transplant patients, including high blood pressure, heart failure and hyperlipidemia.
3. Digestive system complications
Complications of digestive system include liver function abnormality, upper gastrointestinal hemorrhage and acute pancreatitis.
4. Endocrine and metabolic abnormalities
Hypercalcemia, hypophosphatemia, renal tubular dysfunction, diabetes, hyperuricemia, bone disease and sexual dysfunction all belong to endocrine and metabolic abnormalities.
In addition to these complications, kidney transplant is not a way to treat your polluted blood. The root cause of kidney disease is due to polluted blood. If there are still toxins in your body, transplanted kidney will be damaged again and then kidney disease will occur again.
Second, Chinese Medicine Treatments deal with your kidney disease from polluted blood.
There is a unique Chinese Medicine Treatment in our hospital, called Blood Pollution Therapy. This therapy consists of three steps to treat kidney disease from the root, including
1. Cleanse your blood
The first step in kidney disease treatment is to cleanse your blood. In Blood Pollution Therapy, it combines different blood purification methods to purify blood. Blood purification methods include Immune adsorption, plasma exchange, hemoperfusion and hemofiltration, etc may be used according to specific illness condition.
2. Elements supplement
Blood Pollution Therapy will supply some nutrients for your body to meet your body needs.
3. Kidney function reconstruction
The above two steps provide a good environment for your kidney restoration. Micro-Chinese Medicine Osmotherapy and some supporting Chinese Medicine treatments such as Mai Kang Mixture, Medicated Foot Bath, Medicinal Soup and Medicated bath, etc will be used to repair injured kidney cells and improve kidney function.
When your kidney function is improved above 15%, you have a great chance to avoid dialysis or kidney transplant. Besides, all the medicines in our hospital are from nature so you do not need to worry about its side effects. Our Chinese Medicine Treatments can help stay away from the complications of kidney transplant effectively and naturally.
Our Treatment Effect
High creatinine level is dangerous to a kidney patient
Move the mouse to enlarge the picture
If you also want to reduce your high creatinine level, please look at this patient's report. When he was just hospitalized in our hospital on Dec 11, 2018,
His creatinine:1028umol/L,
urea: 39.7mmol/L
UA : 513umol/L
After a period of our treatment,
his creatinine:331umol/L, urea:16.1mmol/L
UA :325umol/L on Jan 5, 2019.
His condition was getting better and better. You can also get better.
For a CKD patient, you can choose Chinese medicine treatments to control your condition. your creatinine level can be reduced radically, symptoms can be alleviated and more importantly, your renal function will be improved. In this way, you can stay away from end stage kidney disease and avoid dialysis.