Can Chronic Kidney Failure Patients Require Frequent Blood Transfusion
2015-08-09 03:01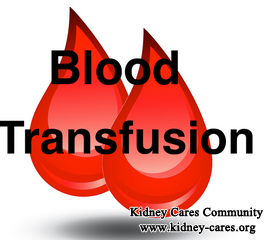 In addition to filtering function, kidney also has another important function-secrete erythropoietin (EPO). The major function of EPO is to make bone marrows to perform hematopoietic function. Therefore, if there is no sufficient EPO, hematopoietic function of bone marrow will decrease. Under this condition, patients will suffer from anemia, also called renal anemia.
Frequent blood transfusion is not proper for kidney failure patients.
Why?
Renal anemia is caused by inadequate erythropoietin secretion so simple blood transfusion cannot solve this problem.
At the same time, toxins accumulating in the body not only inhibit the generation of red blood cells but also destroy red red cell membrane and speed up the death of red blood cells.
Besides, due to long-term of no appetite and diarrhea, it will cause a deficiency of iron, folic acid and protein as well as other nutrients. Severe anemia will occur.
What to do for renal anemia?
When hemoglobin is ≥6g, kidney failure patients do not require blood transfusion. If hemoglobin is <6g and all organs are in severe hypoxia, a few of concentrated red blood cells or small but multiple transfusions can be applied for kidney failure patients to improve renal hypoxia state.
If patients have obvious bleeding tendency, they can be transfused for platelet suspension or fresh blood infusion.
If without the above conditions, treatment for renal anemia can be erythrogenin, iron supplements, folic acid and other medications. Besides, appetite should also be improved so as to supplement nutritional elements.
Advantages and disadvantages of blood transfusion
Blood transfusion can only improve renal anemia temporarily and alleviate hypoxemia. However, after a short period, red blood cells can decrease to the lower level.
Overtransfusion can lead to elevated blood urea nitrogen and blood potassium. Illness conditions can be worsened. Meanwhile, it will increase the risk of hepatitis virus.
The radical and effective solution for renal anemia is to improve kidney function. When kidney function is improved, it can secrete enough erythropoietin so as to alleviate renal anemia in the long run.