Are There Essential Oils To Benefit Patients With ESRD
2015-06-29 03:39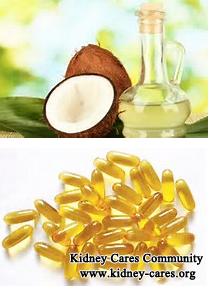 Aside from accepting medical treatment, end stage renal disease (ESRD) patients also need to pay much attention to their diet in daily life. Are there essential oils to benefit patients with ESRD?

1. Fish oils
Dialysis patients benefit from fish oils
Patients with kidney failure require a long term of hemodialysis in order to remove waste products in blood. Although modern dialysis methods are effective in cleaning up the blood they do produce side effects. Uremic pruritus or renal itch affects up to 80% of patients on dialysis. A recent study found that patients given 6 grams/day of fish oil had significantly less severe itching than did patients given a smaller daily dose of olive oil or safflower oil.
Kidney transplant patients benefit from fish oils
Kidney transplant is a result of having developed end stage renal disease. A medical researcher at the university of Hawaii now reports that transplant failure can be postponed quite significantly by supplementation with fish oils.
2. Coconut oil
Patients with kidney disease usually have low immune system which is because when the kidneys are damaged, the wastes and toxins are not removed adequately. Thus, toxins pile up and affect the whole immune system.
Coconut oil is rich in medium chain fatty acids including antimicrobial lipids such as lauric acid, capric acid and caprylic acid. Lauric acid gets converted to monolauric which fights viruses and bacteria, thus boosting immune system of kidney disease patients. In this way, coconut oil helps relieve the burden on the damaged kidneys by reducing the toxin deposition to a large extent preventing infection and inflammation in such patients.
Besides, when kidney function is impaired, the body's metabolism also gets affected along with it. Coconut oil boosts up the metabolism improving the immune system. Coconut oil also helps in curing kidney disease related to diabetes as it decreases insulin resistance and improves insulin sensitivity.
Fish oils and coconut oil are essential oils to benefit patients with ESRD. The dosage should depend on your specific medical condition. You can send your medical reports to kidneycares@hotmail.com or leave a message below.