How Can I Prevent Getting Weight Gain After Kidney Transplant
2015-06-18 08:15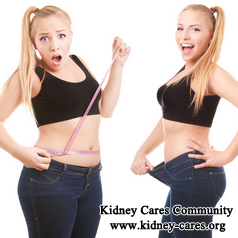 Patients after kidney transplant are more susceptible to suffer from weight gain. How does this happen and how to prevent getting weight gain?
1. Why do kidney transplant patients have weight gain?
After receiving a transplant, rejection is the most common and important complication. Since you were not born with your transplanted kidney, your body will think this new tissue is foreign and will try to protect you by attacking it. Rejection is a normal response from your body after any transplant surgery. Certain anti-rejection medicine will be prescribed to prevent rejection. However, anti-rejection medications will have a number of possible side-effects including weight gain, high blood pressure, and increased chance of infections and increased risk of some forms of cancer.
In addition to medications side effects, a less strict diet is another cause of weight gain after kidney transplant.
2. Why should I worry about getting extra weight?
Getting too much weight can cause having too much total body fat. This is known as obesity. Obesity increases the risk of heart disease and new-onset diabetes after kidney transplant.
3. How to prevent getting weight gain after kidney transplant?
To control weight, a diet is helpful:
Limit your intake of high-sugar and foods in saturated fats. You can choose foods rich in nutrients and low in calorie density to facilitate weight loss. Some good foods for a balanced diet include fresh vegetables and fruit, whole grains, lean protein such as skinless poultry, fat-free dairy and sugar-free beverages. Avoid foods high in salt. This will help you maintain a healthy blood pressure. In addition, this helps reduce fluid retention and bloating.
In addition, regular and proper exercise is important for losing weight.
If you have any question, please leave a message to kidneycares@hotmail.com or consult our online doctor directly. We will reply you as soon as possible.