How Does One Kidney Failure Patient Deal With Swelling Of The Feet And Ankles
2015-06-08 07:16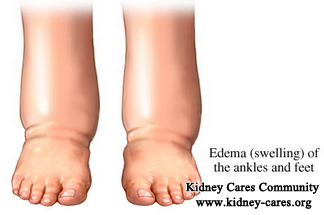 Swelling of the feet and ankles is a common symptom in kidney failure. Most patients have no idea to deal with swelling. In this article, I will give you the answer. Please read further to find the answer.
1. The cause of swelling in kidney failure
Kidney disease patients have impair renal function and they tend to develop edema because of a limitation in the kidneys' ability to excrete sodium into the urine. Thus, patients with kidney failure from whatever cause will develop edema if their intake of sodium exceeds the ability of their kidneys to excrete the sodium. The more advanced the kidney failure, the greater the problem of salt retention is likely to become.
2. How to deal with temporary swelling of the feet and ankles?
The patient's salt balance is totally regulated by dialysis, which can remove salt during the treatment. Dialysis is a method of cleansing the body of the impurities that accumulate when the kidneys fail.
Limit sodium intake
Drinking too much could make it appear worse. Perhaps try to reduce salt intake which could help a bit. Reducing sodium by minimizing salty foods, as well as making fresh fruits and vegetables a large part of your diet instead of foods that are high in fat.
Physical activities
Physical activities may help move the muscles in the swollen part of the body also adds to the treatment. However, activities work well when done under the guidance of a professional. Aerobic and cardio exercises of light to moderate intensity, 4-5 times a week, are the best options.
Improve renal function
The root cause of swelling in kidney failure is impaired renal function. Thus, Micro-Chinese Medicine Osmotherapy is strongly recommended. This therapy can repair injured kidney intrinsic cells and improve renal function. Besides, there are also some adjuvant therapies like medicated bath, foot bath, enema therapy, Mai Kang Mixture and Acupoint Application. These all contribute to improving renal function. Swelling can be alleviated by improving renal function.
Our Treatment Effect
High creatinine level is dangerous to a kidney patient
Move the mouse to enlarge the picture
If you also want to reduce your high creatinine level, please look at this patient's report. When he was just hospitalized in our hospital on Dec 11, 2018,
His creatinine:1028umol/L,
urea: 39.7mmol/L
UA : 513umol/L
After a period of our treatment,
his creatinine:331umol/L, urea:16.1mmol/L
UA :325umol/L on Jan 5, 2019.
His condition was getting better and better. You can also get better.
For a CKD patient, you can choose Chinese medicine treatments to control your condition. your creatinine level can be reduced radically, symptoms can be alleviated and more importantly, your renal function will be improved. In this way, you can stay away from end stage kidney disease and avoid dialysis.