Can We Take Cinnamon For Kidney Failure
2015-05-22 09:36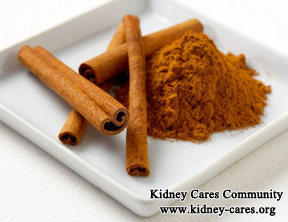 Nowadays more and more patients with kidney failure take Chinese herbs. Cinnamon is not only a spice but also a herb. It has medical properties including lowering cholesterol, regulating blood sugar and eliminating headache. Well then, Can we take cinnamon for kidney failure?
From a medical perspective, it may also provide health benefits for kidney health in terms of your risk of developing kidney disease.
Diabetes and kidney disease
One of the complications of diabetes is kidney disease. Having diabetes will place great strains on your kidneys because of elevated blood sugar. Over time, kidneys can become damaged because of the added workload. There will be protein in the urine as the kidneys' ability to filter blood properly diminishes. Left untreated, it can progress to kidney failure. Healthy management of blood sugar and blood pressure is imperative in order to prevent kidney disease. Cinnamon may offer health benefits for managing blood sugar.
Cinnamon and high cholesterol level
Cinnamon is able to prevent gaining too much body weight which is good for controlling blood sugar, blood lipid and blood pressure. What's more importantly, it can lower the risk of heart problems and other cardiovascular complications which is the common death in kidney failure.
Cinnamon has anti-inflammation, anti-bacterial and antioxidant properties.
Cinnamon helps prevent and treat infections and bacteria in the kidneys and urinary tract system so as to protect the residual kidney function.
Cinnamon has an anti-clotting effect on the blood.
Cinnamon has the effect of removing blood clots and promote blood circulation so as to increase blood flow to the kidneys and blood supply to vital organs like heart and brain. It can improve energy and vitality and relieve fatigue as well which are common symptoms among kidney failure.
Although cinnamon has so many health benefits for kidney failure, you should consult your doctor before taking it. Taking this supplement may affect the dosage of your diabetes medication.
Our Treatment Effect
High creatinine level is dangerous to a kidney patient
Move the mouse to enlarge the picture
If you also want to reduce your high creatinine level, please look at this patient's report. When he was just hospitalized in our hospital on Dec 11, 2018,
His creatinine:1028umol/L,
urea: 39.7mmol/L
UA : 513umol/L
After a period of our treatment,
his creatinine:331umol/L, urea:16.1mmol/L
UA :325umol/L on Jan 5, 2019.
His condition was getting better and better. You can also get better.
For a CKD patient, you can choose Chinese medicine treatments to control your condition. your creatinine level can be reduced radically, symptoms can be alleviated and more importantly, your renal function will be improved. In this way, you can stay away from end stage kidney disease and avoid dialysis.