Alternative Medicines for Kidney Failure
2015-02-21 06:51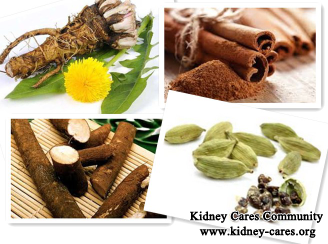 Medicines for kidney failure usually consists of hypotensive drugs, diuretics, tablets for anemia, medications for cholesterol level, ect. All these medicines are helpful, but causes side effects at the same time. To avoid potential side effects, alternative medicines can be used to deal with kidney failure.
What are the alternative medicines for kidney failure?
Many medicines can be used to help with kidney failure, such as dandelion, burdock root, cinnamon, cardamom, mai kang mixture and so on. Here, we will introduce some in detail.
-Mai Kang Mixture
Mai kang mixture is an oral liquid based on herbs like chrysanthemum, vegetable sponge, black fungus which is commonly known as food, and so on. It can help to reduce blood fat, prevent thrombus, adjust sugar metabolism and reduce high blood pressure.
-Micro-Chinese Medicine
It is a herbal medicine with external application. Kidney failure patients can get the following benefits:
* It can reduce high blood pressure by dilating blood vessels.
* It strengthens kidney by alleviating renal ischemia and renal anoxia.
* It helps to reduce risk for cardiovascular diseases which are the leading cause of death in kidney failure.
-Dandelion
Dandelion is a natural diuretic that stimulates urine flow and flushes the urinary tract. Owing to is diuretic effect, it is always used to deal with kidney stone, and urinary tract infection. For kidney failure patients, by increasing urine output, some creatinine can be removed out of the body. Therefore, proper usage of dandelion helps to reduce high creatinine level.
We introduce these alternative medicines, not because they can cure kidney failure, but because proper application of them can help to avoid potential side effects caused by long-term taking of western medicines. Besides, these herbs are also toxic if used in the wrong way or wrong dose, so please consult your nephrologist or ask our online doctor for help before adding them into your treatment.