How Do I Manage Stage 5 Kidney Disease
2015-02-08 06:43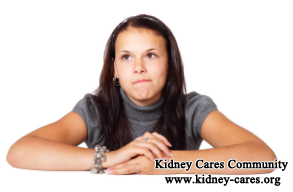 Nowadays more and more people are struggling from kidney disease. And I am also a kidney disease and my disease is in stage 5. I would like here to share my experience with all kidney disease people. And hope we can encourage each other and help each other.
I do not do any supplements, the only things I take are a blood pressure medication (which does not work very well anymore). I take binders with each meal and I take a sleeping pill at night, otherwise I cannot sleep. I usually eat about 4 or 5 tums during the day and it helps keep my calcium up, helps settle my stomach, and helps with the bad taste I get in my mouth. I also get monthly EPO shots to keep my hemoglobin around 9.5 or so. I have some symptoms just like everyone. I think the biggest thing I battle daily is the itching. I try to watch what I eat and drink and I take my binders but I still itch quite a lot. I have nausea from time to time, but if you watch you eat and how much that helps a lot. I also try not to eat to late in the evening. I have some fatigue, but it is not too bad. Sleeping pills before bed help get a good night sleep so fatigue is not bad during the day. Keep a positive attitude and do not let this disease win. You are in control of your body, so stay in control. It is like I tell the residents at the nursing home, you have to get up out of that bed. Do not just lay there or it will be the end of you.
If anyone has the same experience as like, I would like to hear from you or you can leave me a message to kidneycares@hotmail.com.