Is Vitamin B6 Good For Kidney Failure
2015-01-07 09:39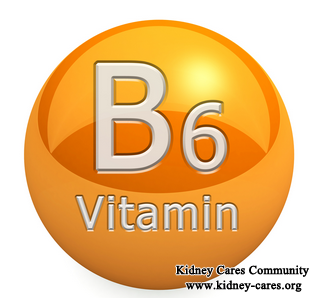 According to scientists, vitamin B6 benefits your body in multiple ways and help treat a number of conditions. Well, as for kidney failure patients, is vitamin B6 good for them? Follow us to see the answer.
Generally speaking, proper dosage of vitamin B6 is good for kidney failure. And patients can get some benefits from vitamin B6.
1. relieve edema
Edema is the most common and obvious sign of kidney failure. Edema can create discomfort. It can also be an early symptom of renal disease. Edema can happen anywhere in the body. However, the most common areas are the hands, arms, feet, legs, chest and face. Studies have shown the benefits of vitamin B6 in relieving edema and reducing water retention. Therefore, kidney failure patients can consume vitamin B6.
2. prevent heart disease
Heart disease is the most life-threatening factor in kidney failure and it is also the main cause of death for those who are diagnosed with kidney disease. Taking vitamin B6 may reduce high blood levels of homocysteine which is a substance thought to contribute to heart disease.
3. boost immune system
Some studies suggest that vitamin B6 may also help stimulate the immune system. With strong immunity, further kidney damage can be stopped and it provides enough time for repairing injured kidneys.
Vitamin B6 is good for kidney failure and patients can derive vitamin B6 from foods that contain them. Foods are like oatmeal, cold cereal, prunes, soybeans, beans, nuts, seeds, lean lamb and beef liver. But always consult a doctor before you start consuming these medicines. This is because even an overdose of vitamin B6 can have hazardous consequences on you. You can also leave a message to kidneycares@hotmail.com. We will try our best to help you.