How Does Foot Bath Therapy Help End Stage Renal Disease Patients
2014-12-21 07:53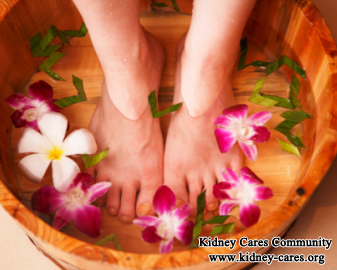 Foot bath therapy is one of the supporting therapies in our hospital and we give more priority to foot bath therapy as it has about 3000 years of history in medical field. For most end stage renal disease (ESRD) patients, they can get a lot from foot bath therapy.
When the feet are in hot water, the blood which is congesting distant parts of the body is brought to the dilated vessels in the feet and legs. Hot foot bath can increase blood flow through the feet and entire skin surface, relieving congestion in internal organs and brain. As for ESRD patients, they can get the following specific health benefits from foot bath therapy:
1. improve blood circulation and prevent cardiovascular disease
Foot bath can improve blood circulation of the whole body, promote your body's metabolism so as to prevent high blood pressure, cerebral thrombosis as well as other cardiovascular diseases effectively.
2. cleanse toxins
The effective ingredients in foot bath therapy can enter the blood vessels and eliminate body toxins effectively. Besides, it can remove cholesterol, prevent cerebrovascular sclerosis and get rid of free radicals. This will reduce the risk of recurrence.
3. pain reduction
Pain in the joints and back is a common symptom in severe kidney disease. Soaking the foot in a hot herbal bath can be therapeutic for those who have pain.
4. promote metabolism
with the increased blood circulation, more hormones will be excreted by our endocrine glands, and then our body's metabolism can be promoted.
Due to limited space here, we cannot list all the benefits of foot bath to ESRD patients. In a word, foot bath therapy is good for kidney disease patients. If you want to learn more information, you can email to kidneycares@hotmail.com or consult our online doctor directly.